News & Notices
Only Two Days Left to Save Big on USITT 2018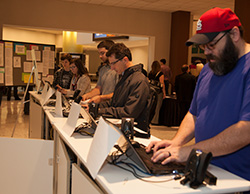 Register by December 7 to snag the biggest discounts for USITT 2018!
Join us in Fort Lauderdale, March 14-17, 2018, for the 58th Annual Conference & Stage Expo with 300 exhibitors, 250-plus sessions, and hands-on demos and training with the industry's leading professionals.
Save up to $215 by registering for USITT 2018 before Dec. 7. Rates will increase after this date.
New hotels have been added to our list. To take advantage of special USITT rates, book your reservations by Feb. 15, 2018, through USITT's housing partner, Connection's Housing.
Be on the lookout for updates and announcements as we get closer to the 58th Annual Conference & Stage Expo in Fort Lauderdale. There's a lot to look forward to.
See how the Stage Expo came to life at our 2017 St. Louis Conference. It's magical!