News & Notices
Rising Star 2018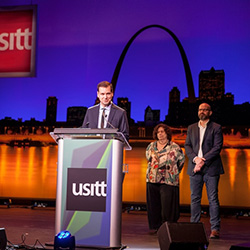 USITT members are invited to nominate deserving young designers for the Rising Star Award. The winner is recognized with a $1,000 award, and free USITT membership and Conference registration as well as editorial coverage in Live Design.
Founded and sponsored by LDI/Live Design in 2005, the Rising Star Award is presented annually to a young designer in the first five years of his or her career, after completing their graduate or undergraduate degree. Nominations are now open for the 2018 Rising Star Award and will remain open through November 30, 2017. Learn about the eligibility and criteria for this award.
The Rising Star Award recognizes excellence and artistic achievement in these design disciplines: scenic, lighting, sound, video, or a convergence of these disciplines.
Rising Star Award Winners: