Horan to Receive
Rising Star Award
Lighting designer John Horan is the recipient of the third annual USITT Rising Star Award, sponsored by LDI2007 and Live Design magazine. The Rising Star Award recognizes excellence and artistic achievement in the areas of scenic, lighting, sound, and projection design, or the convergence of these design disciplines. The award is given at the beginning of a career to young designers in the first four years of professional (non-academic) work following the completion of their highest degree.
The 2007 Rising Star Award will be presented at the Awards Banquet which concludes the USITT Annual Conference & Stage Expo in Phoenix, Arizona on Saturday, March 17.
Mr. Horan, who hails from Chicago, received his BFA in theatrical lighting design and production from State University of New York at Fredonia. He is resident lighting designer at Emerald City Theatre Company in Chicago, where recent lighting design credits include Seussical, The Stinky Cheese Man and Other Fairly Stupid Tales, The Chronicles of Narnia, and A Nutcracker Christmas. He also recently designed lighting for Mack and Mabel and An Ideal Husband at the Circle Theatre and The Crucible at Speaking Ring Theatre. He served as associate lighting designer for the summer dance theatre at the Rockefeller Arts Center at Fredonia and as resident lighting designer for the Bay View Music Festival in 2004.
"This is quite an honor," said Mr. Hogan."I never thought I would be named for something at this point in my career."
Adam Fox, associate producer at Emerald City Theatre Company, wrote in his recommendation, "John understands the role of a lighting designer. He chooses palettes that bring out the best in his fellow designers' work and creates hues that enhance the telling of the story, never getting in the way of it. He is incredibly adaptable as a designer, equally comfortable working on cue-heavy, color-saturated musicals as on minimalist, atmospheric single locales."
"It's tough every year to pick one winner among the nominees, but this year was especially tough," said Live Design editorial director and associate publisher David Johnson. "While last year's crop was young designers whose work we were very familiar with, this year's group was relatively unknown to us. So it was especially gratifying to be exposed to the great work of this year's nominees. John stood out with his especially diverse range of projects as well as his impressive resume. We're especially excited to present a lighting designer with this year's Rising Star Award as it coincides with the 20th anniversary of the industry's pre-eminent lighting technology show, LDI."
Mr. Horan joins past award winners: scenic designer Kelly Hanson (2005) and scenic, lighting, and sound designer Justin Townsend (2006).
To Top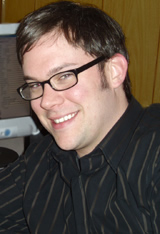 John Horan, above, will be awarded The Rising Star Award, sponsored by LDI2007 and Live Design magazine, at the 2007 Conference & Stage Expo in Phoenix, Arizona.