Costume Session to
Focus on The Tempest
The success of Developing the Costume Design Idea, Take 2: Hamlet! in Louisville last year earned the session an encore for Phoenix 2007 Conference & Stage Expo -- Developing the Costume Design Idea, Take 3: The Tempest!
Join Gweneth West, UVA, in welcoming two of last year's working professional costume designers and master teachers Laura Crow, from the University of Connecticut, and Linda Roethke, of Northwestern, along with a new addition, Bill Brewer from the University of South Florida. These artists will share their unique, creative process from initial inspiration to sketch to prepare participants for an exploration of Shakespeare's The Tempest.
Yes, it's The Tempest! Think of this session as an initial design meeting. Those taking part will be both designer and director. Re-read Shakespeare's text or read it for the first time. Jot down thoughts about the world of the play, its characters, and their relationships to each other. Begin to translate those thoughts to visual images. Look for images that are more emotional than literal; that create a sense of the milieu. These may be tear sheets from contemporary magazines or photocopies of photographs or paintings. Spend a bit of time gathering some images of who these people are and how they might connect to a contemporary audience. At the beginning of the session, these will be posted to share.
This year, it is essential each participant brings 10 to 15 research images. While there will be some art supplies, organizers encourage participants to bring their own. Participants must also bring their own scripts since they will not be furnished this year.
Bring a love of the play and its characters, initial inspirations to share, and sketching. Participants will break into working groups to explore the play by sharing images and discovery of character, character relationships, and idea. The session will "wrap" with an opportunity to share work with the group. The session begins on 10 a.m. Saturday, March 17 and runs to 1:35 p.m. with breaks as determined by team leaders.
Questions? Contact Ms. West at glw2r@virginia.edu.
To Top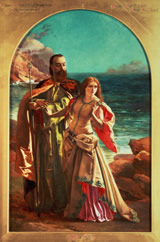 This is only one interpretation of Prospero and Miranda from The Tempest as depicted in a painting by William Maw Egley circa 1850.