International Flavor to
Pepper Conference Activities
The 2007 Conference & Stage Expo in Phoenix will have a strong international component with sessions planned by a number of Commissions. With the Prague Quadrennial only two months away - to the day - from the meetings in Phoenix, several international sessions will highlight the events of the world's largest international exhibition of theatre design.
Starting on the first day, at 2 p.m. USITT member Arnold Aronson, appointed the General Commissioner of the PQ 2007, will present an overview of the PQ, its impact on shaping theatre design in the contemporary world. He will provide tips on how to plan PQ viewing strategies to experience the best on offer.
A follow up session will be held 10 a.m. Friday, March 16. Spotlight on PQ 2007: Panel on Scenofest will feature three masterminds of the 10 days of events -- Marina Raytchinova, Sean Crowley, and Chris Van Goethem. The theme of the Scenofest this year is Aristophanes The Birds, and related events will include a display of 50 student designs for the play and costume sessions on building bird costumes.
Nic Ularu and Madeleine Sobota will host a third PQ session and talk about the challenges of designing the USITT PQ USA 2007 National Exhibit, and how they developed the theme of "New Voices, New Vision: Out of the Box" into a metaphor for the structure 2:30 p.m. Saturday, March 17.
Those interested in hosting the PQ exhibits, National, Student, and/or Architecture when they tour the United States from September 2007 to December 2008 will want to attend Bob Scales' information session at 4-4:45 p.m. Friday, March 16, when he will explain how to arrange a visit. All students planning to go to Prague are invited to participate in a surprise performance in the United States exhibit on National Day. To find out more about how to get involved and represent the United States at the PQ, attend the PQ II meeting 4 p.m. Saturday, March 17.
The guests from the Scenofest team also will present individual sessions in their areas of expertise, jointly sponsored by the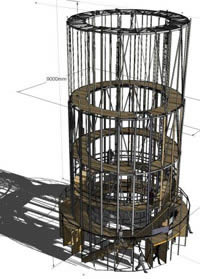 International Committee and individual Commissions. Mr. Crowley is head of design at the Royal Welsh College of Music and Drama and the United Kingdom Commissioner for the OISTAT Education Commission. (Images to the right were taken from Mr. Crowley's 2007 Scenofest designs.) He will share his insights into education in a session entitled Questions of Design Education: The British Perspective at 12:15 p.m. Saturday, March 17. Bulgarian costume designer Ms. Raytchnicova, who has designed over 100 shows internationally and been featured in four PQs and World Stage Design, will present her process of conceiving costumes as a system of visual signs for the audience at 2:30 p.m. Thursday, March 15. Mr. Van Goethem has interests in lighting, production, and special effects and will present his thoughts on the evolution of technical theatre practice in Europe in the 21st century at noon Wednesday, March 14.
The Scene Design Commission is sponsoring Warner Van Wely as this year's guest in its ongoing Beyond the Border series 6:15 p.m. Friday, March 16. Mr. Van Wely creates theatre in public spaces confronting the unsuspecting audience members with his unique use of props, time, and space towards unpredictable results as seen below. His company, Warner & Consorten, has performed in found spaces all over the world.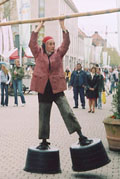 Following his session, a team of renowned designers from China will offer perceptions of design practice in China based on the influences of their cultural heritage. From the Shanghai Theatre Academy, Deputy Dean Yi Tainfu, and Chairman Anthony Hu Zuo will discuss stage space in relation to ancient temples, innovations in arms and armor, and lighting for Chinese performances. A display of designs from several of these international presenters will be on view in the Stage Expo.
Two guests from different continents will come together for the Lighting Commission's session on Asian and European Approaches to Lighting Training 4:45 p.m. Thursday, March 15. Lee-Zen Michael Chien from Taiwan, a lighting and set designer, will join Markku Ulmonen, head of lighting and sound design at the Theatre Academy of Finland, for this intriguing comparison.
The Sound Commission annually includes an international speaker in its roster and this year has invited a designer from South America, a region seldom represented at these conferences. Flavia Calabi's professional work includes sound design for musicals, sound systems for outdoor symphony concerts, and sound management for operas. She will speak at noon on Wednesday, March 14. The Harold Burris-Meyer Distinguished Career in Sound Award will be presented to David Collinson of Great Britain, managing director of Theatre Projects Consultants. A reflection of his philosophy of sound and technical innovations will be a part of the event at 6:15 p.m. Friday, March 16.
In addition to guests from abroad presenting international perspectives, several USITT members who have conducted research overseas will share their findings. Frank Mohler and Scott Henkels have both studied Baroque theatres in Europe and will present their findings on Cesky-Krumlov in The Czech Republic and the Drottningholm Slottsteater in Sweden at 12:15 p.m. on Friday, March 16. Vietnamese Water puppets will be the subject of a session offered by Treva Reimer, Dan Backlund, and Annaliese Baker 12:15 p.m. Thursday, March 15. In this unique performance style, both the puppeteers and the puppets are surrounded by water.
International programming has become an integral aspect of each USITT Conference & Stage Expo with several of the Commissions annually inviting colleagues from other countries to an exchange of ideas and creativity. To become more involved on the international level, attend the International Committee meeting 4:45 p.m. Thursday, March 15 and find out more about the world of theatre beyond the 50 states.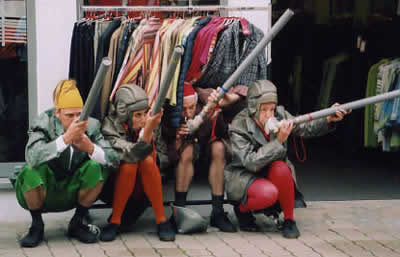 To Top