News & Notices
Props Lab at USITT 2018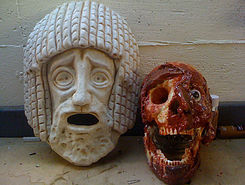 The first ever Props Lab at USITT 2018 will be curated by last year's Early Career Honors speaker Jay Duckworth and will provide demonstrations and hands-on activities led by esteemed properties masters, educators, artisans, puppet makers, and fight masters throughout the Conference. Mark your calendars, pack your bags, and apply your sun screen! This is one of many events planned for Fort Lauderdale you won't want to miss.
Last year's Costume Studio provided hands-on learning opportunities while creating fleece caps for premature babies at St. Louis Children's Hospital, blankets for patients of the St. Louis Cancer and Breast Institute, and quilt squares for Broadway Cares. Thank you to our participating members for making these gifts possible.
The Scene Design & Technology Commission is following suit and further supporting our member's requests for hands-on learning opportunities at the Conference. You can expect the Props Lab to be in full operation with the opening of Stage Expo on Thursday, March 15.