Thoughts from David Grindle
USITT Executive Director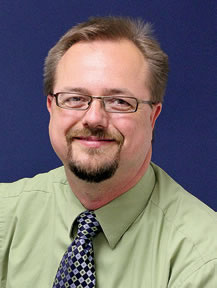 Conference location is one of the great questions at USITT. Where will the Conference be held? We answer that question often. Periodically, I try to visit the "why" behind that question in this column and I think now is as good a time as any to return to that topic. Why do we choose a city, what are the factors, and why are those choices made?
The first and biggest question is: will we fit? The Conference and Expo have grown incredibly fast over the past five years. While there are many convention centers in America, not all of them can handle 40 session rooms (at least four of which seat 400 or more) and 200,000 square feet of exhibit space that can handle rigging at the height our exhibitors need. That narrows the list quickly.
The list of potential venues drops down even further with the next factor— hotel rates. March is high season in many places. We know our attendees can't afford some of the housing rates we are quoted. Recently we turned down an incredible convention center and city because room rates were priced at $245 per night at the lowest rates. Even five years from now I can't see that as viable for our attendees.
There are cities we can't bid on because we don't meet the city's requirements for room tax revenue. We use lots of space but book fewer than 10,000 hotel room nights during the week.
What is there to do in the city that is unique? This year we have access to cruise lines and outdoor venues. For the first time, some of our hotels break the $200 mark, because we are in Fort Lauderdale at Spring Break. While we are still looking for lower rates, we are also working on cruise ship tours, guest presenters, and sessions at outdoor venues that will make this a unique investment and opportunity.
Finally, have we been there before and where were we the year previous? Our event has moved every year and that is one of the things people like about it. We don't go back to the same or nearby city year after year because our members have made it clear that they like this about our conference.
We also look at labor rates for exhibitors, customs regulations for exhibitors, and the challenge for some of crossing borders.
Finally, I am often asked if we could make the Conference cheaper if we didn't have big parties like opening and closing night. Oddly, if we didn't do those, the Conference would cost more. Food and beverage costs offset convention center and hotel meeting space rental. Most rental fees have a minimum food and beverage spend at the facility. While we negotiate diligently, we know that this is an area we must invest in. Without that, we would have very expensive venues.
These are just a few of the considerations in getting our event to a city year to year. I am constantly on the lookout for centers that are expanding and might fit us. It is how we are able to go back to Louisville in 2019—they are expanding their venue and we will fit—for now.
I hope this gives you a bit of insight in to what it takes to find a Conference location and some of the questions we ask. If you ever have an idea for a host city, drop me a line, and I'll let you know what our history is with that city and what its possibilities are.