News & Notices
Member Spotlight: Dennis Dorn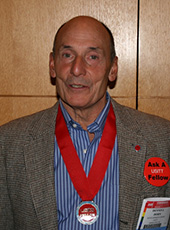 Q&A with Dennis Dorn, technical director, set designer, and USITT Fellow
How did you get involved with technical theatre?
I was playing saxophone in a pit orchestra when I was a freshman in college and watched what was happening onstage. I thought it looked interesting and wanted to find out more about it. The following year, I transferred schools and one of the first things I did was go over to the theatre and met people backstage. They took me under their wing and from there I found it enthralling and I stayed with it.
Do you have a show or event that influenced you or was pivotal in your career?
My very first production experience was on The Threepenny Opera. I helped build a bit of it and I was on the stage crew. There was a revolve and we moved it by hand, onstage and in costume. That was my first time on stage and it was a neat experience to be on both sides of things for this introduction.
What is a favorite moment from your career?
I was involved in the creation of the USITT Tech Expo, which offered opportunities to create a forum for juried work and publication. It's been an important aspect in helping students develop their careers and young academics and professionals receive promotion and recognition.
Is there anyone from the Institute who has influenced you?
There were many, of course, but there are three to whom I feel especially grateful. One is Rick Stephens another is Richard Arnold and the third, my lifelong friend and colleague Mark Shanda. Both Rick and Dick encouraged my involvement in the Institute, in writing books, and the pursuit of research and leadership opportunities. There were a lot of different ways in which people were in my life, but these three encouraged and assisted me in becoming more involved in the Institute and the field of theatre technology.
What do you look forward to at the Conference each year?
In particular, not going to meetings! Finally, I have time to go to sessions, chat with people, and walk the Expo floor. University of Wisconsin-Madison has for many years had informal alumni gatherings at USITT. In the best Wisconsin tradition, we hold it at a bar. It has worked out well, attended and enjoyed by many each year.
How has USITT played a role in your life?
It gave me the opportunity to meet a lot of outstanding people and to be involved in doing things that I think were either personally of interest or became of interest just by doing. Rick Stephens was particularly influential in this way. He encouraged people to dream up projects or get involved in things and that's how I ended up securing some project funding and generating ideas. In general, my modus operandi has been to serve in a position for a couple of terms, then move on to something else. I figure if the work was fun for me to do, it probably would be equally as much fun for someone else.
What does being a Fellow of the Institute mean to you?
It's a high honor that impacts the organization and the profession. It has been extremely gratifying to develop these friendships, be a part of getting people's careers started, and just developing a second family. I'm in the position now to help people who are in the same position that I was so many years ago.
Suggest a USITT Member for the Spotlight!
If you know of USITT members whose work should be in the Spotlight, please feel free to suggest them. Contact Lynne Dundas at lynne@usitt.org.