News & Notices
2018 Member Author Book Signing Event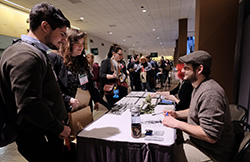 We are gearing up for the USITT 2018 Member Author Book Signing event in Fort Lauderdale!
USITT members can participate if they have authored a theatre design or technology book within the past year. All books must be published and available by December 31, 2017 to be included in the program.
Members interested in participating should e-mail Carol Carrigan with the book title, ISBN number, and publisher contact information by December 31, 2017.
USITT will promote the event, coordinate the purchase of the books, and arrange shipment to the Conference. If you have recently authored a book on theatre design or technology, we look forward to sharing your success at this event.