News & Notices
USITT Board Mentorship Program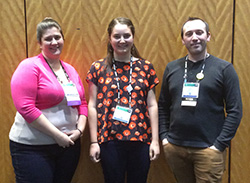 Q&A with former Board mentees Deb Sherrer and Pinky Estell and current Board mentee Jessica Bergson.
Tell me about the USITT Board Mentorship Program
Pinky: It's an avenue for those who are looking to explore the upper management of an arts organization. It's getting access to a background of knowledge that is not readily taught and having that avenue available to all disciplines.
You don't have to be an arts management or a technical director major, though you certainly can be. This was a great avenue for me to explore how a large organization works and in turn, help my career. It's about building connections with successful folks from other arts organizations and having them mentor you over the course of a year and answer questions.
Deb: We are siloed sometimes and as an industry we're trying to get better at teaching transferrable skills. Just because you're a technical director major doesn't mean you can't take advanced costuming. We're getting better at that.
However, we aren't getting better at the balance between the folks in the office and the folks in the shop. How do we bridge that gap and how do we understand more about how we collectively make this thing happen? USITT is one of the most fiscally sound non-profits in the country as well, so it's one of the few times a mentee can come in and see it done well.
USITT is an organization doing it well and having high level conversations about governance. Seeing that passed down to operations and seeing it happen when you're at the Conference is beneficial. It's being able to see that and seeing it done well to prep someone to do it well somewhere else.
What is the dynamic between Board mentors and Board mentees?
Pinky: I think one of the great values is in the diversity of the Board itself. You're getting a perspective of, for example, what a cruise line is doing versus a regional theatre versus a college program and the different inputs they all have. They all don't agree, but they can come to an agreement and move forward.
It's interesting to watch that collaboration. It really is a collaborative process and watching that unfold was extremely informative, and at times a bit entertaining.
Deb: How do you disagree with your friends and colleagues and people who were your mentors who are now your colleagues? How do you disagree with them and then have a drink later? It's interesting to watch the passion. Not all our ideas pass with 100 percent "yes" and that's ok, but everyone is heard and it's great to see how passionate people can wholeheartedly disagree and have a passionate conversation about it, and then be fine.
Jessica: The mentorship program is really a two-way street. Something that I've learned a lot about, not necessarily just from being here but also in college classes, is that a best practice of a Board is to include the perspective of young, early-career people. I think that's an important part of the program. As an incoming Board mentee, I'm not going to just take advice and perspective from other people, I'm going to give it back from how I experience the organization and with a fresh perspective, because I really wasn't involved with it beforehand.
Have there been any pivotal moments or big changes in the program since its beginnings?
Pinky: When we first started, it was going to be two folks who would get together and have some back and forth. My committees were chosen for me and then they said, "Well that seems kind of silly, why don't we let them choose?"
The process of how they choose who you will be mentored by has also changed. In the beginning, it was more or less assigned. You were assigned to people who were in your field.
Can you explain the application process?
Jessica: The application requirements included an essay on why I wanted to do it, what I hoped to gain from the experience, and what I hoped to give. I had a phone interview with Pinky, Deb, and a few other Board members. It was a pretty easy process. I was told a week later that I was chosen.
As far as being matched with your mentor, how did that work?
Deb: When I took over the operational aspect of the mentorship, I reached out to Jessica and said to go on the website and look at the Board of Directors and see what they did, who looked interesting, and who she might have questions for. The point was to maybe not pick the person you know the best or the person who perfectly aligns with your job. She had mentioned both Kim Scott and David Stewart so I emailed them and said our Board mentee is interested in getting connected with you and learning a little bit more. Of course, they both jumped. You get mentored by everyone, but I wanted to make it a "build your own adventure mentorship" because you get out of it what you put into it.
The initial investment of time and energy to really kick it off is vital as we could connect Jessica with them via email but also at the reception and Board meetings. She now has two solid people on the Board who she goes to and asks questions to throughout the year. We want to make sure that we do a better job of communicating that these are people you can connect with forever. I also told her to go onto the list of committees and see what looked interesting and to reach out to those people ahead of the Conference. She has been to a ton of committee meetings so far.
Jessica: Kim and David are my core people, though I consider everyone on the Board as my mentor.
Pinky: Everyone on the Board will answer questions, but two are assigned as your go-to mentors and are as invested at the same level as the student.
Applications for the Board Mentorship Program are now open! For more information and to apply, click here.
Stay tuned for "Part-2" in the next issue of College2Career, launching August 17 where Deb, Jessica, and Pinky go even more in-depth with their mentorship experience.