International
Prague Quadrennial 2019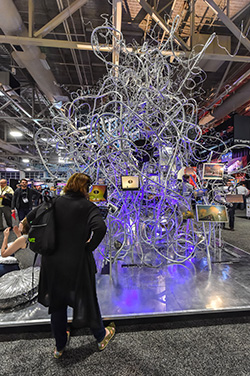 2019 Prague Quadrennial Technical Director & Host School
USITT's International Committee seeks a volunteer Technical Director and host school to produce the USITT exhibits for the Prague Quadrennial in 2019.
The Technical Director is charged with constructing the three displays sponsored by USITT to represent American theatre design in the National, Student, and Architecture Exhibits at PQ and beyond. The host has typically been a university or college theatre department with enough time, space, and labor to build the exhibits.
USITT provides the funds for materials, shipping, storage, installation, dismantling, and disposal of the exhibits. The Technical Director must be employed at the host institution. Remuneration is made in the way of travel and housing support for two faculty and six student volunteers from the host school to install the exhibits in Prague, and to attend the event. Contact Eric Rouse for further details.
Prague Quadrennial 2019 Design Submissions
USITT is seeking conceptual design submissions from individual designers and teams for the National Exhibit and Emerging Artist Exhibit for Prague Quadrennial of Performance Design and Space 2019. The working theme of the 2019 exhibit is Porous Borders. The goal for the exhibition design is to create an evocative and interesting architectural and sculptural space that merges cohesively with multimedia work and engages with the audience for an immersive experience. For details, click here.