News & Notices
Member Spotlight: Josafath Reynoso, Gateway Mentor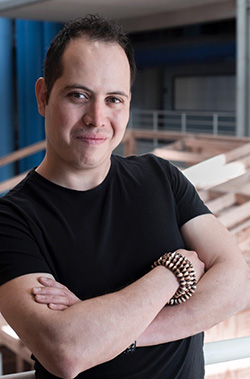 Q&A with Josafath Reynoso, Gateway Mentor
What factors made this Conference special to you?
It's the first time I've been to a conference where I'm not a student anymore. Last year I was not able to be here because I was in tech for another show so this marked my first professional conference in a sense. It's very special because I got invited to address the winners of the YD&T awards which I won two years ago. And of course, the big deal for me is the Gateway Program. Being invited to the program and being assigned a mentee and now being able to take him around and show him the exhibits and going to the conference with him has been cool.
Do you think the conference has a different feel now that you are attending as a professional?
There's a difference in the sense of responsibility. Now when I meet people that I met first as a student, I feel that they have the confidence to ask me to get involved and to be part of the organization in more than one way. Before it was more "It's cool that you're here. We love to have you here and we love your work." Now it's more "Ok, now it's time for you to pay it back." It's been great. I've been asked to do some projects for next year that are looking interesting.
How was your experience as a Gateway Program mentor?
It's been both exciting and a little bit intimidating because I'm working with people who have been in the Gateway Program for a while. It's been humbling because I see their commitment and sometimes it's hard to match their level of energy. They know everybody and they know what the mentees need and I feel a little bit like I'm being mentored and being a mentor at the same time. Beyond that, spending time with my mentee has been cool. It's great to have someone who is just starting in the industry who is part of an underrepresented group and seeing their struggle and their need for pointers. It's inspiring. I can see myself in him when I was in that situation, and I remember what I was needing back then, and that's what I try to give to him.
Why do you think the Gateway Program is important?
Because diversity is important. We need each other. I found myself talking to the YD&T winners about the importance of diversity in theatre. We concluded that theatre is one of the few disciplines where it doesn't matter where you come from, what your race is, or what your sexual identity is. All that matters is what you bring to the table. The inclusivity that theatre allows is unlike any other art form. I think that's what the Gateway Program is about. Emphasizing that need for different voices and opinion that bring new and diverse work beyond whatever labels and credentials you're going to apply to them.
What do you want your mentee to take away from his experience in the Gateway Program?
I want him to see that he is not alone, that he has a network of people around him who can support his dreams. I hope he gets to connect with people and explore what other people are doing in a way that influences his own work.
Has anything surprised you about the Gateway Program?
I was pleasantly surprised at how mature, readily available, and professional my mentee behaves for a person his age.
How has diversity played a role in your career?
The lack of diversity isolates you and therefore makes it harder to have access to opportunities, to be known, and to network. At the same time, theatre is very inclusive and very diverse. People who work in theatre for the most part are very progressive and committed to giving equal opportunities to everybody. I think a lot of the differences—social, racial, and sexual identity—are self-imposed labels and limits. If you use your uniqueness as a springboard and are willing to embrace who you are, you can bring all parts of you into your work. It helps you flourish, and enriches the work of everyone else. You become receptive to letting your own work grow.
Suggest a USITT Member for the Spotlight!
If you know of USITT members whose work should be in the Spotlight, please feel free to suggest them. Contact Lynne Dundas at lynne@usitt.org.