Last Word
Tony, We Can Hear You!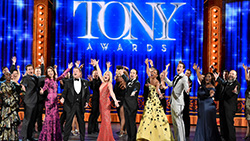 The Tony Awards have announced that the Sound Design categories—first awarded in 2008 and subsequently eliminated in 2014—will be reinstated for the 2017–2018 season.
The Tony Awards Administration Committee has conducted a review of the Best Sound Design of a Musical and Best Sound Design of a Play categories with several industry professionals, including sound designers, over the past 18 months.
When the two categories are reinstated, they will return with a new voting process. Starting next season, a select subset of voters will vote in these categories—as well as Best Orchestrations—based on their trade. As in the past, the full group of Tony nominators will determine the nominees.
The decision to remove the two categories prompted a backlash from several members of the theatre industry and fans. The public response included a Twitter campaign using the hashtag #TonyCanYouHearMe.
The 2017 Tony Awards will take place June 11 at Radio City Music Hall; Kevin Spacey will host.