News & Notices
Jay O. Glerum Rigging Masterclasses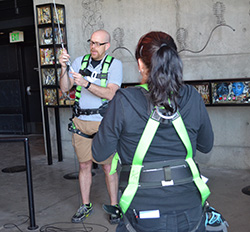 USITT's Rigging Masterclasses will take place in June & August in two tracks of learning: advanced & entry level. The masterclasses honor the memory of one of our industry's greatest advocates for safety and training, Jay O. Glerum.
The Rigging Masterclasses offer a hands-on learning experience for each attendee so that theory is translated to practice under the supervision of internationally recognized trainers.
These classes are offered through the support of donors and corporate sponsors. Through their generous giving these courses are offered at reasonable rates. Proceeds support the education offered by USITT including the Rigging Safety Initiative.
Certificates will be issued in partnership with Educational Theatre Association so that attendees may apply for recognition of continuing education credit.
The entry level track, taking place in Atlanta, GA June 13-14 is geared towards students and educators and includes both counterweight and automated rigging safety and operations. Early registration ends May 9.
Both advanced and entry level tracks will be offered August 14-15 at Hartford Stage in Hartford, CT. The advanced class will be taught for ETCP renewal credit and includes training on the latest innovations in rigging as well as advanced safety techniques such as life rescue and other topics. This course qualifies for 14 ETCP renewal credits. Early registration ends June 1.