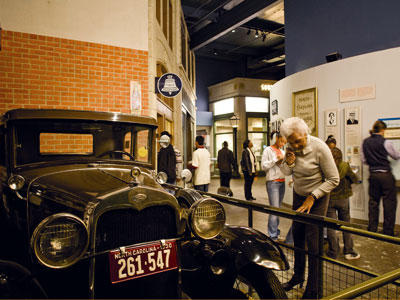 This classic car, which those visiting Charlotte can examine, is a precursor to the vehicles which are now associated with the Charlotte Motor Speedway, the nearby engine and fabrication facilities, and the newly-opened NASCAR Hall of Fame.
Photo/Courtesy Visit Charlotte
Heading to Charlotte For Stage Expo 2011
The 51st Annual USITT Conference & Stage Expo will be held at the Charlotte Convention Center in Charlotte, North Carolina. The "Queen City" is a study in contrasts. Charlotte is a vibrant, modern city still steeped in the traditions of old-fashioned southern hospitality. Known as the banking center of the south, the city is thriving despite the current economic uncertainty. Revered as a cultural center, it is also the home of the brand-new NASCAR Hall of Fame.
The Charlotte Convention Center is found uptown, in City Center, where attendees can explore the African American Cultural Center, the Bechtler Museum of Art, Discovery Place, IMAX Dome Theatre, the Charlotte Nature Museum, ImaginOn & Children's Theatre, Levine Museum of the New South, McColl Center for Visual Art, the Mint Museum of Craft & Design, Blumenthal Performing Arts Center, and the Spirit Square Center for Arts & Education.
Bracketing the Convention Center are the Westin Charlotte and the Hilton Charlotte Center City, with the Westin serving as the USITT conference headquarters hotel. A Portman design, the Westin makes a bold statement in the Charlotte skyline. Additional room blocks have been booked at the Hilton, the Charlotte Marriott City Center, the Hampton Inn Charlotte Uptown, and the Hilton Garden Inn Charlotte Uptown.
Attendees enter the Convention Center on the Concourse level, traveling down escalators to the exhibit halls, or up to meeting rooms and ballrooms. USITT Stage Expo 2011 will take place in Exhibit Halls B & C1, a 140,000 square foot space shaped like a backward L. East and West Wing meeting rooms are located on the top level of the convention center, separated by the light rail, which runs right through the building. Nine pieces of public art are displayed in the CCC celebrate the creations of locally and nationally known artists.
Plan now to spend March 9 to 12 in Charlotte. More than 80 exhibitors have already reserved space for next year's show. For information on exhibiting at Stage Expo 2011, contact hpwillard@aol.com.