Nearly 100 theatre faculty, students, and industry professionals were on hand September 13 at Rockefeller Arts Center on the SUNY Fredonia campus for the annual Fall Fling, a conference of the Upstate New York Regional Section of USITT. The event, a co-production of the Department of Theatre and Dance and the Office of Environmental Health and Safety, was the result of nearly six months of planning by Stephen E. Rees, chair of theatre and dance, and Anne Podolak, director of EH&S at Fredonia.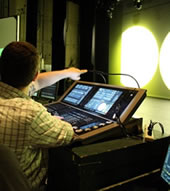 A series of informative morning sessions on a variety of technical production topics were presented by Theatre and Dance faculty. They included demonstrations of computer lighting control for automated stage lighting fixtures by resident lighting designer Todd Proffitt; the use of Apple's iPod as a research tool for costuming and a session on costume silhouette by costume designer Dixon Reynolds; development of computerized 3-D "walk-through" models for scenic designs by Gregory Kaye; and the use of video for projected theatrical scenery by Scene Shop Supervisor, Sean Culligan. About 25 theatrical production and design students provided hospitality and tours to visiting participants.
The afternoon session was a workshop on safe working practices for the theatre presented by Bill Sapsis, president of Sapsis Rigging, Inc. of Lansdowne, Pennsyvania. Mr. Sapsis, a professional stage rigger for theatre and concert venues and trainer for the Entertainment Technician Certification Program, is recognized internationally as one of the leading experts in stage rigging safety and training. His four-hour session concentrated on such crucial aspects of theatrical safety as fall protection, interpersonal communication, hardware selection, and equipment maintenance as well as compliance with the variety of codes and mandates that regulate the entertainment industry. His presence was the result of a coordinated effort by Ms. Podolak to obtain a grant and other funding.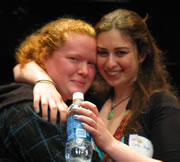 Laura High presents fellow student Becca Pickett with the $200 paid student registration to the Cincinnati 2009 Conference & Stage Expo Ms. High won during the Upstate New York Regional Section's Fall Fling.
At a brief meeting of the Upstate Section membership, Section Chair Trish Ralph, Scene and Lighting designer at SUNY Brockport, announced upcoming events at SUNY Oswego in January and at the University of Buffalo in mid-April. She was joined by Vice-Chair Johan Godwaldt and Secretary Kitty Macie, both of SUNY Oswego, and Treasurer Don Guido of SUNY Binghamton. A drawing for a variety of USITT "swag" was held with the main prize being a paid, $200 student registration for the annual USITT Conference & Stage Expo in Cincinnati, Ohio in March. This prize, presented by Michael Mehler, USITT VP for Programming and Scenic designer for Allegheny College in Meadville, Pennsylvania, was claimed by Laura High of Nazareth College, who promptly gifted a fellow student, Becca Pickett, with the award.
To Top

The Chesapeake Regional Section of USITT held its annual convention and exposition at Towson University September 13. One of the highlights was the keynote address given by the National President Carl Lefko.
Mr. Lefko spoke first of his beginnings in the USITT organization by attending a master class, as a student, in 1977. (The same year the section was founded). Throughout his speech was the theme of volunteerism. He reinforced that USITT is on the move, and it is important for people to get on board now.
At the convention, over 20 workshops were presented representing all areas of design and production. (A detailed list of those workshops can be found at www.usittchesapeake.org.) A master class in VectorWorks Spotlight was also presented, by Gregg Hillmar.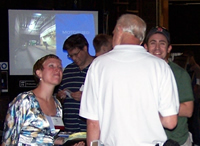 Chesapeake Regional Section Chair Kacey Fisher, left, talks to participants at the section's annual conference.
Officers elected were: Kacey Fisher, President, second term; Cheryl Yancey, Secretary; Mark Wujcik, Second Vice-Chair, second term; and Kevin Curry, First Member at Large.
The section thanked the exhibitors that participated in this past Expo: AKT3 Company, Barbizon Capital, Color Kinetics, ETC, Fisher Theatrical, PAR Lights, Strong Entertainment Lighting, Texas Scenic Company, Theatre Service and Supply, TMB, and VectorWorks Spotlight by Nemetschek NA.
Chris Hall from the University of Maryland was the winner of a free registration to the Cincinnati 2009 Conference & Stage Expo.
To Top