Officer Profile:
Travis DeCastro
How does someone with an undergraduate degree in musical theatre performance, singing, dancing and acting no less, and a graduate degree in directing find himself as the general manager of a theatre complex and Treasurer of USITT?
For Travis DeCastro, who became USITT's Interim Treasurer on July 1, the path included college and summer theatres and 15 years as a stage manager in New York City. While there, he worked special events for Radio City Music Hall, New York City Opera and many events on- and off-Broadway including Cats, Gypsy, In Celebration, Prin, and others.
All during that time he thought about going into teaching, and after his son was born Mr. DeCastro decided it was time to shift courses. For the past 16 years he has been head of the Stage Management Program at Pennsylvania State University and now also serves as general manager of the School of Theatre. Until about three years ago, he worked with the summer theatre program, first as production manager and then as managing director.
Although he likes the freedom of summers without specific duties, Mr. DeCastro manages to fill his time with golf, a local trivia team, finishing a new text on stage management, and his new assignment for USITT.
For Mr. DeCastro working with the finances of USITT is akin to his duties synchronizing production budgets, creating and tracking income projections, and monitoring many different aspects of his facilities. He enjoys looking at new methods, seeking what works, and tweaking what does not.
His past involvement with USITT, starting in Wichita when Elynmarie Kazle asked him to be part of the Stage Management Mentoring Program, evolved into the job of the first Special Events Coordinator for the newly-formed Annual Conference & Stage Expo Committee in Pittsburgh, and then to include a seat on the Finance Committee. He is also a Vice-Commissioner for the Management Committee and served on the USITT 40th Birthday Committee.
"My involvement has educated me," he said. "Without the strong history of those who, 10 years ago, took the bull by the horns and began a serious investment policy and financial program, we would not be in the strong position we are today," he said. He gave credit especially to Larry Hill, Bill Byrnes, Christine Kaiser, Jean Montgomery, and John Uthoff for his understanding of USITT.
Mr. DeCastro is completing the term of Mr. Hill, who resigned to pursue other volunteer interests. "Mr. Hill took an active, visible role which will be hard to follow," he noted. "We have great strengths, with USITT showing a profit and using its assets in a really beneficial way for our members," he said.
In looking at the future, Mr. DeCastro says that as a left brain/right brain person he likes "to play with technology" with one side of the brain. That encourages him to see how technology can best be utilized to enhance communication and improve efficiencies, while the other half of his brain still enjoys the art of theatre. He hopes to use both sides to benefit USITT, helping streamline processes while maintaining focus on the mission of the Institute.
He has written about his experiences with online production calendars, in "paperless" productions, and using Google's services as an information cache. He feels it is important to share what he has learned to help others better communicate.
Mr. DeCastro relates his experiences to USITT, noting he has a strong understanding of how the Conference is produced and is now learning new ways that the many aspects of the entire organization are tied together.
And those offspring, the reason he left Broadway? Mr. DeCastro is proud to note that two are in college at Penn State and a third is the high school drum major. Could there be some residual influence from the man who was once one of two male dancers in Kismet many years ago?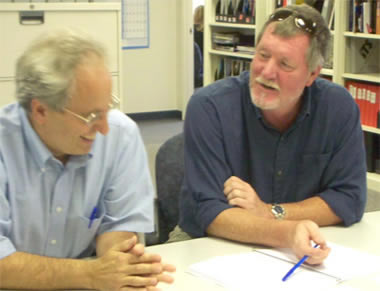 Travis DeCastro, right, recently named USITT Treasurer, discusses a spreadsheet with James Bandoblu, Certified Public Accountant, during an early July visit to the USITT Offices in Syracuse, New York.
Photo/Barbara E.R. Lucas
To Top