Great Discounts on
Publications!
Members can obtain topical and interesting industry publications at reduced prices from USITT. Check out some of our newest additions, including the 2007 Golden Pen Winner and the latest in the monograph series.
The Performing Set: The Broadway Designs of William and Jean Eckart
by Andrew B. Harris
William and Jean Eckart collaborated on several new musicals that defined the 1950s and 1960s on Broadway, including Damn Yankees (1955), Once Upon a Mattress (1959) and Mame (1966). This book about their work contains production photographs and/or renderings for every show they did on Broadway, and includes over 500 color illustrations. This is an important record of the American theatre as well as of the work of influential designers.
The 2007 USITT Golden Pen award winner carries a member price of $29.
To Top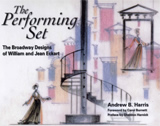 USITT members can purchase the 2007 Golden Pen award winner for $29.
The Designs of Tharon Musser
by Delbert Unruh, with Marilyn Rennagel and Jeff Davis
The Designs of Tharon Musser presents the work of one of the foremost lighting designers of the 20th century. The book contains beautiful production photographs of her most important designs, and traces the career of this widely regarded and well known theatrical lighting designer. Tharon's story is accompanied by a list of her production credits and awards and nominations.
The publication, third in the USITT Monograph Series, has a member price of $30.
To Top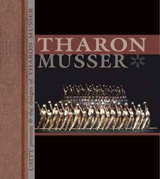 The Designs of Tharon Musser is the third in USITT's Monograph Series.
Click here to visit the online store and purchase these and other terrific publications now!
Interested in having the USITT Monographs Series added to your organization's library? Click here to download a PDF order form you can pass along. To purchase any title in the bookstore by phone, call the USITT office at 800-938-7488.
Click here for a complete list of member discounts. For instructions on accessing a discount, select the item of interest and enter user name (USITT member number) and password (last name) at the prompt.
If you have questions or suggestions for a new benefit, contact Membership & Ad Sales Manager Michelle L. Smith at 800-938-7488 or michelle@office.usitt.org.
To Top