Penguins on the Plane!
Surf's up! On the Dalmatian Coast, that is.
As we set off to join the USITT Study Tour of some 35 participants (including members, spouses, friends, and eight very special student members), we boarded our Delta Airlines flight from Atlanta to Philadelphia. From the seat in front of us came the most charming and interesting gurgles, coos, and chatter imaginable. Improbable as it may seem, occupying that seat were two penguins chatting with each other, and with their handler, T. J. Dray of SeaWorld, in eager anticipation of their trip.
As The Philadelphia Inquirer reported, on June 3:
Animal tales
"Penguins did indeed fly last week - commercial, though - as two Magellans from SeaWorld in Orlando, Fla., visited for an appearance Wednesday to mark a screening of the movie Surf's Up.. . These are low-maintenance penguins, says Pottstown native T.J. Dray, a marine scientist who tends to the penguins at SeaWorld. They travel with their own fish and even had a choice about taking the trip: 'I just put out the pet carrier, and whoever comes running gets to go.' After overnighting at the Radisson-Warwick Hotel - will the ice machines ever be the same? - Dray and SeaWorld aide Greg Smith drove the birds to Boston for another screening."
This was a most auspicious beginning for our adventure. If you ever wish to guarantee happy travel companions on a flight, take along some penguins. They delighted us all.
In Philadelphia the penguins toddled off to their engagement, and we joined the USITT Study Tour group at the international terminal. Some eight hours later, we arrived in Zagreb, Croatia. Upon arrival at our hotel we were met, neither officially nor intentionally, by well-known travel author and Travel Channel personality Rick Steves. He was there updating his travel advice regarding a visit to this beautiful city. Prague and Budapest are notably the most popular cities in Central Europe for foreign visitors. But there is no doubt that Zagreb, the capital of Croatia, an alluring place, will soon offer these fashionable capital cities keen competition.
Our first evening together found our troupe of travelers along with our guide, Martin Klimenta, enjoying a "opening night" dinner and toasting the upcoming adventures that we eagerly anticipated sharing.
A native of Prague and our guide for both the 2003 and 2007 PQ Study Tours, Mr. Klimenta has become integral to our well-being and good times in Prague and beyond. To date he has traveled with us to Hungary, Romania, Croatia, Montenegro, and Serbia.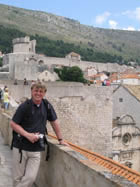 As well, he generously toured us through his personal favorite haunts around Prague and shared stories of pre- and post-Velvet Revolutionary life in his beautiful hometown. When next we meet Mr. Klimenta at PQ 2011, we hope he will sport that most beloved of USITT swag -- a USITT fleece vest symbolizing his august position in our ranks.

Penguins, it turns out, were not the only members of the "animal planet" that figured prominently in our journey. Jellyfish traveled with us as well.
A much-heralded performance piece entitled Jellyfish created and performed by Univesity of Georgia graduate students Emily Gill and Ben Philipp, right, required that hula-hoops, the Jellyfish's armature, be carefully moved from their home in Atlanta, Georgia through the Balkans so they could be used in a performance at the celebration of the USA National Day and at subsequent performances three times a day during PQ 2007.
Our exciting travel itinerary included much of the former Soviet Republic of Yugoslavia. Beginning in Croatia, we traveled by bus along the dazzling Adriatic Coast through the 26 kilometers granted to Bosnia and Herzegovina for access to the sea then on, by coach, to Montenegro and Serbia. For the last leg of our tour we flew from Belgrade to Prague.
Throughout our journey, we visited fabulous theatres -- historic and modern -- from vantage points including lobbies, auditoria, on-stage, back-stage, scenic and costume shops, storage areas, and in the audience.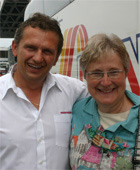 Any reporting of the 2007 Study Tour would be remiss without the mention of our bus driver, Tibor Bede. Mr. Bede, right with Sue Kiesau, was our champion, navigating us safely from Zagreb to Belgrade through more than 500 miles of dramatic, yet chilling mountainous landscape on the challenging, often unimproved, roads that traverse the Dalmatian Coastline into crowded city streets designed without thought for cars, let alone 21st century traffic.
Together we visited cities and villages; museums, churches, monasteries, bars, restaurants, and ice cream stands. Our understanding of the drama -- the comedy and tragedy -- of the human condition deepened. Collectively, we basked in and shared the dreamy wonders, traditions, and layers of ancient and modern civilizations of the "old world."
Yet we were alone and inconsolable as each of us struggled to understand tough realities, revealed through sharply focused lenses, as we visited Terezin, a Nazi concentration camp, and saw the remains of buildings bombed during the Balkan Wars of the 1990s.
Last but certainly not least, much of the success of our trip is attributable to the good work and good cheer of tour leaders Dick and Karen Durst! With four Study Tours to their credit and promising USITT only one more, the Dursts are USITT model travelers. (For more about USITT Study Tours, look for Traveling with USITT by Nancy Simon in the Fall issue of TD&T.)
The USITT Study Tour participants visited interesting places, were inspired by stunning scenery, visited beautiful historic theatres, and met with brilliant European designers and technologists. The centerpiece of the tour was, of course, the awe-inspiring Prague Quadrennial, arguably among the finest theatrical design expositions in the world.
Notwithstanding these amazing offerings, the secret ingredient, assuring that special recipe for Study Tour insights and delights, is the Dursts' heaping serving of generosity, travel acumen, and personal charm!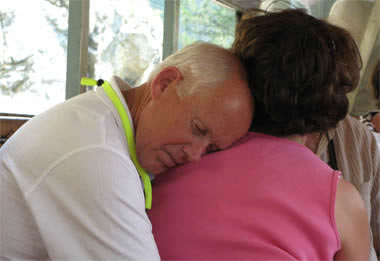 Dick Durst takes a break from his duties as USITT tour director, supported ably by his wife Karen.

Photos courtesy, from top, M. Busch-Jones, S. Kiesau, B. Philipp, M. Busch-Jones
To Top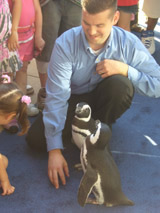 Two Magellan penguins from SeaWorld in Orlando made a special appearance in Philladephia, but first they charmed members of the USITT Study Tour.
Photo/
Michael Klein/ Philadelphia Inquirer