Patterns Donated
To Costume Archive
The Commercial Pattern Archive, a project of the Costume Design & Technology Commission, is thriving. The big news is the latest contribution to the project from Butterick Archives in New York. McCall, which now owns Butterick and the Vogue Pattern Co., has transferred all the patterns in its archive to the Commercial Pattern Archive. Kathleen Lenn, senior vice president of McCall, said the company's goal was "to enrich that which is already an outstanding archive in the entire commercial pattern industry, rather than maintain smaller collections of our individual brands."
Joy Emery, Project Chair and Curator of the Archive, estimates there are over 1,200 patterns in the gift dating from 1871 to 2000. The bulk of the patterns are Butterick and Vogue patterns with other companies well represented.
Many of these patterns, and over 1,500 additional patterns with scanned images of the garment design and pattern schematic, have been added to the pattern database, CoPA, in the last six months. The database now has over 55,000 records and 50,000 images.
A new CD, CoPA Vintage Patterns 1969-1978, was just released. It is part of a four-volume set: Volume I covers 1868-1944, II covers 1945-1956 and III covers 1957-1968. The discs can be purchased for $100 each or the set for $360. A user manual is available for $15. All funds go to the Betty Williams Pattern Fund to help support the project in addition to the support from USITT. Visit the website for more information on the Commercial Pattern Archive and the CDs.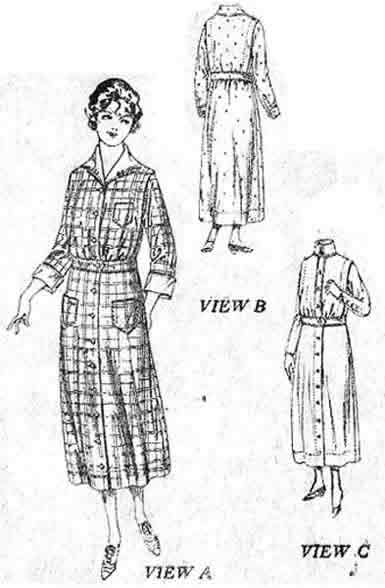 Above are the designs for Butterick pattern number 3014, 1921 Ladies Shirt-Waist dress in Gibson Style. It is part of the series of patterns from the Butterick Archives.
Illustration/Courtesy CoPA
To Top