Harris Earns 2007
Golden Pen
Andrew B. Harris will receive the USITT 2007 Golden Pen award for The Performing Set: the Broadway Designs of William and Jean Eckart, published by University of North Texas Press in 2006. The USITT Publication Committee's Golden Pen subcommittee reviewed seven outstanding nominations for the 2007 award before recommending the Harris work. The recommendation was affirmed by USITT's Board of Directors.
Mr. Harris will be invited to the USITT Annual Conference in Phoenix, where a special book signing will be scheduled. The Performing Set: the Broadway Designs of William and Jean Eckart will also be the focus of a Conference session at 10 a.m. Friday, March 16, 2007.
USITT's Golden Pen Award is given annually to the author of an outstanding, major, recent publication judged to be significant in the field of design and production for the performing arts.
According to the nominator, the book is a loving tribute to William and Jean Eckart, written by Mr. Harris who chaired the theatre department at Southern Methodist University when the Eckarts taught there. Out of their initial acquaintance, a lasting friendship emerged and following Mr. Eckart's death, Mr. Harris began writing the book. Based upon his intimate knowledge of the Eckarts, his unrestricted access to the Eckart's archives, and upon many hours of interviews with William, the book is filled with detail and insights.
It covers only the Broadway designs of the Eckarts and takes as its thesis the premise that the Eckarts were, during their time, significant theatrical design innovators especially in musical theatre design. Their significant innovations in the movement of scenery, while quite modest by today's standards, did set a new standard for the flow of the Broadway musical and are amply documented in the book.
One of the most compelling sections of the book is the chapter "Disenchantment: Age of Aquarius." In this chapter, Mr. Harris confronts head-on the period from 1966 to 1971 as the Eckarts' careers tailed off. From the absolute pinnacle of success with Mame in 1966, they designed seven more Broadway shows until 1970, most of them very weak scripts and most of them flops. That was disappointing enough, but the real blow came when the Eckarts realized that their style of design had gone out of fashion. The end of a career is talked about with grace and humanity.
The book will be available for sale at the USITT Annual Conference, and will then be sold through the USITT bookstore.
To Top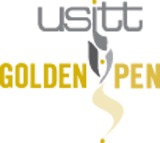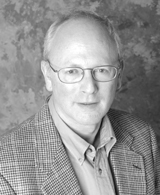 Andrew B. Harris, author of The Performing Set: the Broadway Designs of William and Jean Eckart, winner of the 2007 USITT Golden Pen Award.