The University of Alabama at Birmingham (UAB) is well ahead of the game when it comes to getting ready to host the Southeast Regional Section Masters Class. Kelly Allison, head of design and production at UAB and the Masters Class host, has left no stone unturned in his search to provide a full slate of offerings. Scheduled for September 8 and 9, the preliminary program promises a wide range of workshops across the entire spectrum.
Scheduled are: The Difficult Fitting, focusing on difficult body types (Kim Schnormeier and Elizabeth Pollard); Plotting with VectorWorks Spotlight (Kelly Allison); From Classroom to Main Stage, examining how undergraduate programs train students to design; Weapons Care and Feeding (Ron Hubbard); Upholstery for the Stage (Phillip Anderson); Stage Management for Dance (Heather Jackson); and. Research, Interpretation, and Application - The Design Process.
Extensive sessions are planned in Photoshop Rendering Techniques. (Cliff Simon); Tutu Construction, a material fee may be applied for this hands-on workshop (Betty Smith, Costumer for the Alabama Ballet); Programming Intelligent Lighting; Painting Translucent Drop; and, Stage Management (perhaps with Carey Lawless, Production Manager for Arena Stage in Washington, DC).
Additional sessions are in the process of being confirmed. At this time Mr. Allison hopes to receive commitments for Costume Design for Television; Film and Video Lighting; SFX (audio playback); Setting Microphones for an Orchestra; and Organizational Communication.
Tours of Birmingham's performance venues are being arranged for the Alys Robinson Stephens Performing Arts Center (below), the Historic Alabama Theatre, and the Historic Lyric Theatre.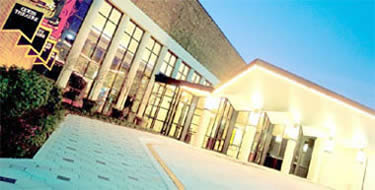 The Section also announced its new webmaster. Shannon Miller, lighting designer at Western Kentucky University, has agreed to lend his expertise to updating and maintaining the web site (www.southeast.usitt.org).
To Top