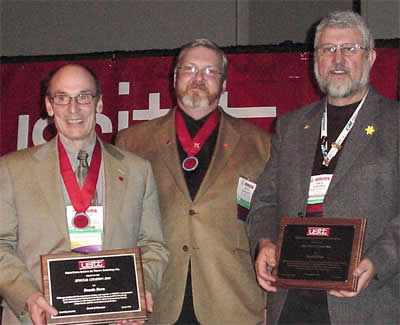 Dennis Dorn, left, and Joe Aldridge, right, were presented with Special Citations for their volunteer commitment of time and talent to benefit ETCP on behalf of USITT. The award was presented by Immediate Past President Bruce Brockman.
Photo/Tom Thatcher
Dorn and Aldridge
Honored for ETCP Involvement
Two men active in the leadership of the innovative Entertainment Technology Certification Program (ETCP) were honored at the 2006 Annual Conference for providing guidance to the development of certifications for those working within the industry. Both men were given Special Citations by the Institute "in appreciation for an outstanding commitment of time and expertise as USITT representatives…These contributions to this important effort will be of tremendous benefit to the theatre and live entertainment profession."
Dennis Dorn, Professor of Theatre Technology at the University of Wisconsin-Madison, and Joe Aldridge, Coordinator of Entertainment Engineering Design at University of Nevada-Las Vegas, have both represented USITT on the ETCP Certification Council since it was formed. They helped develop the new industry-wide programs which certify individuals as having specific activities, skills, and knowledge. The first exams for certified riggers were given last Fall at LDI, and the first electrical skills exam will be given at LDI this October.
Mr. Dorn, former USITT Vice-President for Commissions, has been at Madison for more than 25 years. Co-author of Drafting for the Theatre, he has worked extensively as a consultant, technical director, and set designer. Mr. Dorn, a graduate of the Yale School of Drama, also served as Director of University Theatre in Madison for 11 years and has worked to encourage and fund research projects, especially those on technical innovations. He was co-chair and chair of Tech Expo for USITT and has also served as Chair of the Midwest Section, and a Director at Large. Mr. Dorn was named a Fellow of the Institute in 2000.
Mr. Aldridge, USITT's Vice-President for Conferences, has worked on and off the Las Vegas strip for more than 30 years, and has been at UNLV since 1974 serving as Technical Director, and head of the MFA design program. He has also served as a trustee for the Nevada Resort Association/IATSE Local 720 Training Trust, and initiated numerous safety and training programs. For USITT, Mr. Aldridge has presented many sessions, served as Chair of the 1995 Conference & Stage Expo and was previously Vice-President for Special Operations. He is now developing and coordinating a groundbreaking Entertainment Engineering Design program as a collaboration between the College of Fine Arts and the College of Engineering.
To Top