Seek Session Proposals for
Costume Sessions in 2008
With the Costume Design &Technology conference planning finished for Phoenix, it is time to start thinking about programs for Houston in 2008.
What! Why the heck so early? Especially when people are not even through finals or dress week yet?
Well, all session proposals need to be in hand before Phoenix since one of the last things that happens at each conference is to solidify the programs for the next conference.
If you have an idea for a conference session proposal, the complete details and instructions to submit a proposal are on the Costume & Technology Commission site on the UISTT web page here.
After completing the proposal form, send it to Kevin McCluskey, Department of Theatre and Dance, University of Mary Washington, 1301 College Avenue, Fredericksburg, VA 22401 or by e-mail to kmcclusk@umw.edu.
The Commission wants to try something that came out of one of the Strategic Planning sessions at Louisville. Have you ever said, "I wish they had a session on [insert costume related topic here]?" Well, let's try that! Send topics you wish were sessions. The Commission will compile the list and post it on the costume listserv. Someone may be able to propose a session that covers one or more of those "wishes." This is not intended to replace the traditional submission process, but to let all know what is of interest to everyone else. Send "Sessions we would like to see" topics to kmcclusk@umw.edu.
Sessions for Houston will be accepted until February 19, three weeks before USITT's 47th Annual Conference & Stage Expo begins in Phoenix, Arizona.
To Top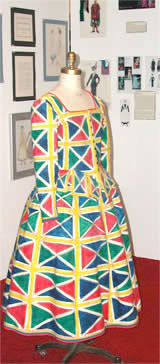 Special exhibitions, above, can be coordinated with sessions proposed to the Costume Design & Technology Commission sessions, especially those concerning honored designers. The commission is seeking ideas for 2008 programming.

Photo/Casey Kearns