News & Notices
USITT President Mark Shanda named Dean of the University of Kentucky's College of Fine Arts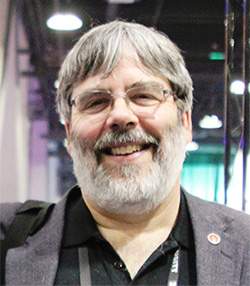 Mark Shanda has been selected as the next dean of the University of Kentucky College of Fine Arts pending approval by the UK Board of Trustees.
Mark is a professor and season producer at the Department of Theatre in the College of Arts and Sciences at The Ohio State University and the current President of USITT.
"I am thrilled to be named dean of the College of Fine Arts at the University of Kentucky," Mark said. "During my interview process, with each conversation, I became more impressed with the faculty, staff and students of the university. Their shared passion for the arts and all things blue were infectious, and my wife Ginny and I greatly look forward to joining the UK family."
Mark is excited to get started at UK College of Fine Arts. "The College of Fine Arts is a great place to move to after my 30 plus years at Ohio State. I look forward to help to further integrate the college into the fabric of the Lexington arts community and celebrate joining the remarkable faculty and staff at UK. Hours of conversation lay ahead as I get to know my new colleagues and friends as we dream big and work together to advance the arts. I can't wait!"
USITT congratulates Mark on this new venture and wishes him much success in this next chapter of his career.