News & Notices
Architecture Award Submissions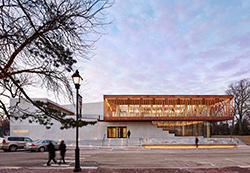 Architecture award submissions are now open.
Sponsored by the USITT Architecture Commission, the Architecture Awards Program honors excellence in the design and recognizes architects of theatre projects.
Both honor and merit awards are evaluated by a panel of distinguished jurors which have included: Mitchell A Hirsch, Scott Crossfield, Joseph W. A. Myers, Russell Cooper, Duane Shuler, Mark Reddington, FAIA, Buzz Yudell, FAIA, Richard Talaske, Robert Long, Hugh Hardy, FAIA, Joshua Dachs, Joseph Mobilia, Timothy Hartung, FAIA, Dawn R. Schuette, AIA, LEED AP and Robert Shook, ASTC, and David M. Schwartz.
For more information about USITTs Architecture Awards, click here.