Last Word
David Grindle Earns ASAE Certification
The American Society of Association Executives has announced that David Grindle, Executive Director of USITT, has earned the Certified Association Executive (CAE) designation. The CAE is the highest professional credential in the association industry.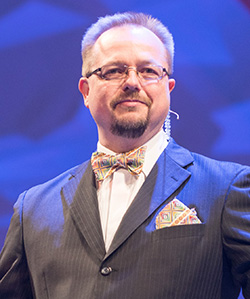 To be designated as a certified Association Executive, an applicant must have a minimum of three years' experience with nonprofit organization management, complete a minimum of 100 hours of Specialized professional development, pass a stringent examination in association management, and pledge to uphold a code of ethics. To maintain the certification, individuals must undertake ongoing professional development and activities in association and nonprofit management. More than 4,200 association professionals currently hold the CAE credential. The CAE Program is accredited by the National Commission for Certifying Agencies (NCCA).
"As Executive Director for USITT, David Grindle utilizes his knowledge and skills to advance the performing arts industry, elevate our professional standards as an organization, and educate the global community about the role USITT plays in our industry," said Mark Shanda, USITT President. "On behalf of our Board of Directors, our executive leadership team, and our 4,300 members from across the globe, we are incredibly proud that David has earned this recognition."