News & Notices
Jay O. Glerum Rigging Masterclass June 13-14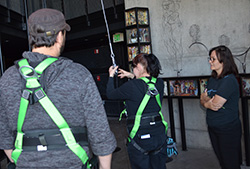 Do you have the practical skills required for safe rigging operation?
Master the basic skills at the June 13-14 Jay O. Glerum Rigging Masterclass in Atlanta.
The two-day intensive program is geared towards students and educators and covers both counterweight and automated rigging safety and operations.
Attendees are eligible for up to 12 contact hours to submit for continuing education consideration.
The curriculum includes:
Safe operation of counterweight fly systems
Basic rigging tools and hardware
How to safely rig and fly scenery
Safety procedures for working at heights and using ladder
Basic rules for fall protection
Basic maintenance of rigging systems
Why professional inspections are important