News & Notices
Awards Update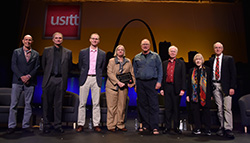 Nominations for USITT's Distinguished Achievement Awards and Special Achievement Awards will be open from June 1 through June 30.
USITT recognizes excellence and significant contributions in the performing arts and entertainment industry, in the areas of design and technology, through a variety of awards. These awards honor established professionals and performing arts/entertainment-focused organizations throughout the world. Nominations for these special awards are accepted from the membership-at-large.
The Distinguished Achievement Award honors an individual who has established a meritorious career record in a specific field of expertise in any area of design or technology in the performing arts or entertainment industry. For details and to nominate, click here.
Special Achievement Awards
The USITT Award, the highest honor given by USITT, recognizes a lifetime of distinguished contribution to the performing arts or entertainment communities in any capacity.
The Joel E. Rubin Founder's Award is given to a USITT member in recognition of outstanding and continued service to the Institute.
The Thomas DeGaetani Award honors a lifetime contribution to the performing arts in a particular region of the country, generally in the location of the Annual Conference & Stage Expo.