Midwest Tech Olympics Thrive
The Midwest Regional Section continues to promote and sponsor Tech Olympics at the state theatre festivals in each state of the section. In addition to Section members who donate their time and energies to run the Olympics, the Section purchases t-shirts as swag for competitors.
Nearly 50 Wisconsin high school students converged on the campus of the University of Wisconsin-Whitewater for the 2009 Wisconsin High School Theatre Festival Tech Olympics. Seven teams competed in six events throughout the day, culminating with an awards ceremony later that evening in the Young Auditorium.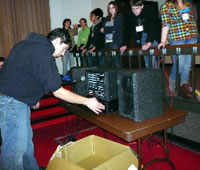 Students vied in timed events such as annual favorites Knot Tying (sponsored by Mainstage Theatrical of Milwaukee, WI), Wire a Connector (sponsored by Designlab Chicago), and Lighting a Fixture, Prop Shift, and Sewing a Button (all sponsored by ETC). A new rigging competition, sponsored by Milwaukee-based Acme Corp., was especially well received.
"The students were very excited and enthusiastic about the new rigging competition," said Tech Olympics Coordinator and ETC Hospitality Coordinator Rick Wolff. "Setting up a truss and chain rigging played a significant role in the outcome of the final standings, making things that much more intriguing".
ETC's Kirk Starks (technical support specialist) judged the Lighting a Fixture competition and had similar sentiments. "It was great to see enthusiasm and competitive spirit in lighting. If only show focus could go that fast…"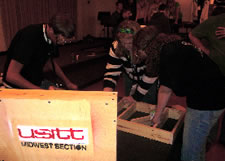 Each event had individual first, second, and third-place winners who received gifts of tools, theatre gadgets, and swag, including the popular USITT Midwest Tech Olympics T-shirts. The best times of each of the six events from every squad were recorded and tabulated for the Team Competition. The 2009 Champion was Neenah High School, which took the event by storm in its first appearance at the Tech Olympics, taking home the trophy and a brand new Source Four fixture. Kettle Moraine High School placed second also earning a shiny new Source Four Par, followed by the third place winner Dominican High School "Green Team" earning a trophy and Source Four 26 degree lens tube.
Despite a snowy, slippery drive for many to East Lansing and Michigan State University, the Michigan Educational Theatre Association (META) Festival was a great success. On December 4, two workshop sessions were dedicated to the Tech Olympics. This year's events were: Hang and Focus a Light, Prop Shift, Costume Change, Sound Setup, and Knot Tying.
In only the second year of the event at META, 26 students from 12 different high schools participated. Primarily organized by Western Michigan University's Patrick Niemi and Matt Knewtson, with the assistance of USITT Midwest and ETC, the students had fun, learned lots, and took away some swag and prizes.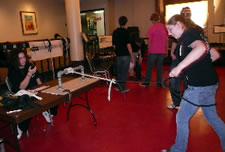 Since all of the events are individual events, an Overall Master Technician Award is presented each year to the student who excels in all five events. Derek Arnold, a student at Wylie E. Groves High School from Beverly Hills, Michigan garnered the award this year. It just so happens that his school also won the First Place Team award.
Tech Olympics at the Illinois High School Theatre Festival included wiring a plug, Nicopress, light focus, prop change, costume quick change, knot tying, sound system set-up,and flat construction. Seventeen different schools were represented with a total of 79 students competing. For the second year in a row, the first and second place team prize of a Source Four, donated by ETC, went to Naperville Central and University High School, respectively. Many vendors supplied swag for the competition.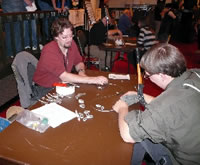 In Illinois, the winners must stop by the Midwest Regional Section table in the Exhibit Hall to learn about the Section, find out the results of the Tech Olympics, collect their swag, and in the case of the winning team, have their picture taken. The new Section display was created by M.C. Friedrich of Michigan Technological University.
The 2010 Indiana State Thespian Conference was held the weekend of January 22 to 24 on the campus of Vincennes University in the brand new Red Skelton Theatre. This was the first time Vincennes had hosted the Conference and the Tech Olympics (called the Tech Challenge) at the campus.
This year there was a dramatic increase to 600 delegates. Tech Olympics had a similar increase. There were 44 competitors. This caused Indianapolis Stage Sales and Rental to scramble to create a lot more "swag bags" than in the past. Ellen White, with ETC, also contributed more items for those "goody bags" as well as generous donations of an ETC Source Four PAR and a Source Four ellipsoid for the top two teams!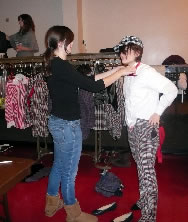 Students competed in Lighting a Geometric Shape, Sound System Set-Up, Props Quick Change, Basic Knots Tying, and Folding a Backdrop as a team event. This year Richard Wood (the Red Skelton Theater's technical director) and Michael Legate (the theatre department's technical director) supplied undergraduate students as judges for most events. The lighting station was judged by David Del Coletti (recently retired from the Indiana State University Theater Department). Randy Riggs, the sales manager from Indianapolis Stage, developed an Excel spreadsheet for scoring.
The winners of the team awards this year were:
1st Place – Warren Central High School (Indianapolis area) ETC Source Four ellipsoid
2nd Place – Carmel High School (Carmel) – ETC Source Four PAR
3rd Place – Reitz Memorial High School (Evansville)
4th Place – Logansport High School (Logansport)
Anyone in the Section who is interested in helping with any of the Tech Olympics should contact Section members: Steve Jacobs sjacobs192@comcast.net; Ken Fraza: frazak@lcsc.k12.in.us; or Ellen White: ellen.white@etcconnect.com.