Making It Stick -- A Challenge For Scenic Artists and Others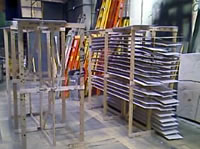 Upon entering into almost any theatre or craft shop, it is not to hard to find, lying on a drippy paint table or hanging on a wall, hand written 3x5 note cards. On those note cards are tested and time honored recipes that are favored answers to the elementary question, "How do we make it stick?"
What is that recipe? How were they created? How many are there?
Finding the answers to these questions was the premise behind the Making it Stick: Painting on Challenging Surfaces presented at the USITT Annual Conference & Stage Expo in Houston, Texas.
The session explored favorite materials, top notch recipes, and developing smart problem-solving techniques through rigorous testing. Though the title of the session suggests an emphasis to scenic painters, the information presented easily translates to all crafts artisans and technicians not only in theatre but toward every field in entertainment.
Experience reigns over all when it comes to getting advice. Assembled on the panel were some of the nation's finest scenic artists and designers. The panelists included: Claire Dana, charge scenic artist, Indiana Reperatory Theatre; Howard Jones, director of the scenic art program: set design and scenic art faculty, North Carolina School of the Arts; Jenny Knott, paint product manager, Rosco Labs; Lisa Lazar, charge scenic artist, Berkeley Reperatory Theatre; Pan Leung, student at Cobalt Studios and graduate student at University of Missouri Kansas City; Bob Moody, professor theatre arts -- scenic art, murals, paintings and drawings, Brandeis University; and Joan Newhouse, charge scenic artist, Cobalt Studios.
Recipes Aren't Everything
Mr. Jones had said, "It is almost more important to adjust how you approach the problems you are presented with, than memorizing exact formulas."
It is all about the thought process. Batches, formulas, and recipes are great but this industry thrives on the unknowns and the never-done-before. When inventing formulas needed for adhesive success, remember one golden rule of the masters -- test, test, and test. This is most critical for those working in a time constraint. Testing first is a huge time- and money-saver.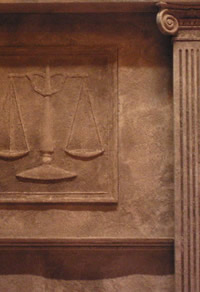 To begin, it is important to ask the right questions. Consider the materials being worked with. What is intended for the final surface? The answer will guide most major decisions in regards to finish (i.e. glossy or flat), textures (i.e. rough or smooth), and color. What are the requirements for longevity, durability? Expectations and kind of materials differ if the piece is intended to last through a full repertory season as opposed to a show with a single run.
Closely related to durability is function. Does it need to be soft and flexible or rigid? Will an actor be standing on a sculpture or is it just for looks? Keeping these answers in mind will save time and heartache.
Some real bummers for good adhesion are a dirty surface and surfaces with not enough tooth. Thorough cleaning of surfaces is easy for some to overlook, but taking the time to degrease, dust, or wash down a surface will greatly increase the results of any adhesive purchased. So, keep in mind, sometimes soap and water isn't enough.
After cleaning, the project material may need some added bite. Abrade the surface to create tooth especially on smooth surfaces. An abraded surface will give the adhesive something to grab onto. Materials good for abrasion are sandpapers, steel wool, or wire brushes. There are solvents such as acetone that are very effective. However, chemical solvents are best kept to those who are experienced and knowledgeable of personal safety requirements. Adding on to the surface by covering with fabrics or paper might be faster than abrading.
Be Afraid... Be Very Afraid
Mr. Moody said, "In my career, I've been asked to make things stick to surfaces, and I had no idea how I was going to do it. Fear is a great teacher. Most of what you learn will start with 'I have no idea.'"
When developing a personal library of what works and what does not, stick to your guns; be a professional; tenacity under doubt is essential.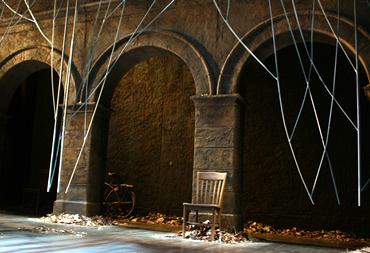 Don't Give Up Creativity.
Many types of glues are not made with the "larger than life" scale used by theatre professional in mind. Read the label, consider what is available, and always keep personal safety in mind. Sometimes, slip n' sliding down a raked platform on a plastic tarp is the best way to stick texturing to a surface. Experience builds up standard methods, but change and adaptability are essential. Don't limit imagination and creativity.
No Artisan Is an Island
There are many successful formulas that are used every day in theatres all across the country. Theatre professionals have the good fortune to have organizations dedicated to information sharing. The people at USITT or in online forums such as the Scenic Artist Forum on Yahoo, monitored by Ms. Lazar, can be priceless resources. The ever-expanding internet has among its ranks websites such as www.thistothat.com which offers a drop menu to select the type of materials and what glue works best, according to the manufacturer of the individual products. Test, test, test.
Things to remember
Experience makes a good adhesion expert.
A good thought process and great resources are the best tools.
You are not alone and most likely someone out there has made it stick. Innovative products are coming out all the time. Do not overlook the obvious and available.
Have the necessary safety equipment (gloves, respirators, dust masks, etc.) available
For best results, read and follow manufacturer directions for product uses.
Some recipes and valuable suggestions were from panelists and participants in the Scenic Artist Forum. Highlights of this handout are: favorite materials and their uses, frequently asked questions on the use of unique materials, and popular recipes from Ms. Dana. For a copy of the handout from the Making it Stick session, e-mail jknott@rosco.com or kansascityscenic@gmail.com.
To Top