Houston - Proper Conference
for Prop People
The Houston 2008 Conference & Stage Expo kept the prop person busy, excited, and tired. Not since Pittsburgh have there been so many prop-related sessions to attend.
On Tuesday, Joel Orr of the Bobbindoctrin Puppet Theatre Co. led an informative Professional Development Workshop (PDW) in puppetry. Wednesday, the prop person could attend Iron-on Embellishments sponsored by the Costume Design & Technology Commission, More Great Stuff Not Made for Us from the Scene Design Commission, an exhibitor session on Wireless Dimming and DMX in Practice, and the Technical Production offering Lifting, Moving and Stopping: tools and machines that help!
Thursday's session Make it Stick- Painting Challenging Surfaces was very interesting and then Friday brought a session on Animals in Production with a live porcupine at eight in the morning. Then there was the choice between Simple Machines in Technical Theatre and Creating Creatures, Costumes, and Problem Solving Using Vara Form Thermoplastics, followed by the excellent session, I Love Props - Now What? The day ended with a performance by Mr. Orr of an amazing piece called Crucifer.
Saturday started with the marvelous Beyond the Pie in the Face with Barbara Taylor of Late Night with David Letterman and ended with the highly instructive and energetic Swords in Your Show- What You Need to Know presented by Tom Fiocci.
With the variety of sessions offered from across the Commissions, it was hard to top this Conference for the prop person, though next year in Cincinnati looks promising. With Scene Design Commission sessions on Tricks of the Stage, and Garbage to Grandeur, and a Regional two day PDW called, Make It and Break It, an intensive workshop of molding and casting and making different forms of break-away glass, as possible offerings, planning for 2009 is off to a good start.
To Top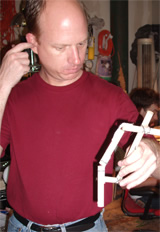 Joel Orr of the Bobbindoctrin Puppet Theater shows one of his many props during a special session at the 2008 Annual Conference & Stage Expo.

Photo/Courtesy Nathan K. Lee