Hunting for Primary
Research? Sources may be
closer than you think
Tucked away in the Connecticut River valley of western Massachusetts is a wonderful example of an infrequently used museum resource. Historic Deerfield, one of the best documented small communities in the United States, offers a look into a colonial New England village.
Account books, diaries, letters, and various other reading materials at the Memorial Library span nearly 300 years of village history. As you turn from the main road, you are greeted with giant elm trees and 13 museum houses built between 1730 and 1850. Founders of Historic Deerfield, Helen Geier Flynt and Henry Needham Flynt, saw the need to preserve the fragile fading history of this community in the 1930s when they first came to the village. Today the museum organization maintains 52 buildings and 93 acres of land and is open 362 days of the year.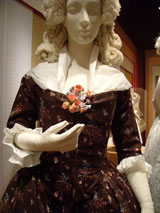 At the heart of Historic Deerfield is the Flynt Center of Early New England Life. The museum opened in 1998 and is home to the permanent exhibition "Celebrating the Fiber Arts: The Helen Geier Flynt Textile Gallery." On display are a wide range of textiles, needlework, and costumes from America and Europe between the 17th and 19th centuries. At any given time there are roughly 200 pieces on display. Pieces are rotated on a regular basis to give new acquisitions a chance to be seen and give protection to others from the damaging effects of light. Edward Maeder, director of exhibitions and curator of textiles at Historic Deerfield, has extensive knowledge of the world of costumes, fabrics, and needle work and has much to share about the current collection.
The gallery space is divided by the four most commonly used fibers in Colonial America: cotton, linen, wool, and silk. Each section includes a history of the fiber, its role in Colonial America, and costume choices representative of the various ways the fiber can be used in a woven textile. There are paintings, fashion plates, needlepoint scenes, and other visuals that give the costumes on display a broad range of context. For example, there is a man's white silk embroidered waistcoat circa 1770 along with five gouache painted samples of possible variations of additional waistcoat designs. A woman's block-printed cotton day dress circa 1780-90 is reflected by a similar fabric used in a mosaic quilt made by Emiline Ellery.
Of the many museum highlights, there are a few that stand out.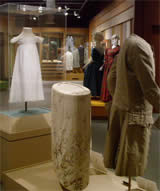 The man's court suit in three pieces circa 1750-1760 is made of gisele silk velvet with a floral pattern in shades of tan, lavender, green, and black. It is one of only four known complete suits using a weaving style known as en disposition or woven to shape in which the pattern motif on each garment piece of the suit is created while the fabric is being woven on the loom. This style was perfected in the heart of the silk industry in Lyon, France. The fabric was made 50 years before the Jacquard loom was invented in 1801.
A personal favorite is the man's silk waistcoat circa 1760 then remade around 1790. It is a wonderful example of how garments can be updated to accommodate the changes in fashion. The garment is also a cautionary tale of how damaging light can be to fabrics. One corner of the pocket flap is turned up to reveal a waistcoat that was once a bright coral color but now is a faded grayed pink.
Other displays in the gallery include a multi-drawer unit that allows vistors to see smaller, more fragile items of both men's and women's accessories such as collar stocks or reticules. While looking at the shoe and hat display, take note of the mirror at the bottom of the case for a chance to reflect on your own footwear.
Janet Arnold wrote in A Handbook of Costume, "We should gain some enjoyment from the looking at fashionable dress in its own right. This is a study of another art form." In theatre, we are always looking to other art forms for inspiration and a visit to Deerfield just might inspire you.
To plan your visit to Historic Deerfield, call 413-775-7214 or visit them on the web at www.historic-deerfield.org.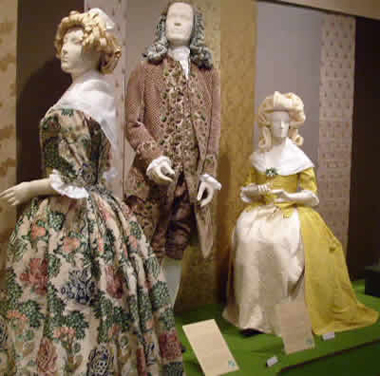 To Top