James Hull Miller,
USITT Fellow, 1916-2007
James Hull Miller, known as "Jimmy" to friends and colleagues, used his talents, knowledge, and experiences to develop and champion the open stage style of staging with free standing scenery.
Born in Sewickly, Pennsylvania, his father was a lawyer and his mother a librarian. The family moved to New York about 1930 when his father died suddenly leaving his mother to struggle rearing two boys. Both were excellent students, so one of their father's classmates obtained scholarships for the two to attend Princeton University. Active in the theatre on campus, Mr. Miller spent summers as a technical director in local summer stock theatres. After graduating in 1938 with a degree in English literature, he toured nationally with the Graff Ballet Company as lighting designer.
A master sergeant during World War II with the 24th Armored Division in Europe, he earned two Bronze Stars. He was discharged in 1945 and worked briefly at the Goodman Theatre in Chicago until joining the faculty of the University of New Mexico as technical director in 1950.
About 1955 the Lyons family of Shreveport, Louisiana, asked Mr. Miller to advise their architect, John Shaver, on designing a new memorial theatre on the campus of Centenary College resulting in the Marjorie Lyons Little Theatre, a prime example of Mr. Miller's open stage ideas. He served as technical director teaching classes at Centenary College for several years.
Shortly after, Mr. Miller began self-publishing his ideas of open stages and free standing scenery as the ideal for small theatres.
With the aid of Hall Lyons, Mr. Miller established an arts lab where he taught his methods of free standing scenery for elementary and middle school teachers. He traveled to various meetings to recruit people to come to the lab, frequently running weekend workshops for teachers and even television technicians.
His publications led Mr. Miller to connect with Al Koga at Hub Electric in Chicago, and Hub took over printing the publications as advertising for its services. By
participating in sessions at meetings of various theatre organizations, Mr. Miller's publications gained great popularity among educators as they offered an economical solution for staging plays. Over the years Mr. Miller's articles appeared in such publications as AIA Journal, American School and University, Progressive Architecture, Tulane Drama Review, RIBA Journal, and Recreation. Some 27 publications including several paperback books have been identified.
Soon he attended conventions for teachers, school principals, and architecture meetings. Active in the AETA, he participated on a number of panels where he presented his ideas and served as Chair of the Theatre Architecture Project.
When the American Society of Theatre Consultants was founded 25 years ago, there were 10 founding members. Mr. Miller was one of those original 10 and "stood out amongst us all," according to Len Auerbach, ASTC.
Meeting with criticism from traditionalists, he answered with his trademark laughter, diffusing their anger. He was both self-confident and unpretentious at the same time. Mr. Miller's attitude was "try it, you might like it!" Once he discarded the proscenium, he never looked back. He put into practice his ideas of theatre design in the community theatres built in Waco and Midland, Texas, and it is estimated his ideas have been adopted in over 600 small theatres across the country.
In early 1960, Mr Miller stomped through heavy snow to attend the organizational meeting of USITT and then served for several terms on the Board of Directors. A year later, he traveled with Tom DeGaetini to London to make contact with a British technical organization. In 1972 he presented 40 workshops for the County Educational Authorities in Great Britain.
Finally, he sold his rights to Merideth Publishing, Ltd, where a number of his books and publications are still available. Sponsored by a Ford Foundation grant, he consulted on numerous theatres and became a founding member of the American Society of Theatre Consultants in 1983.
James Hull Miller's ideas on small open stage theatre architecture and simple screen-like free standing scenery will last forever. His methods are low cost, ideal for schools, churches and other amateur performances, require modest skills and have high design appeal. He was a Don Quixote who saw his dreams realized on the international theatre scene.
Mr. Miller died December 27, 2007 in Shreveport, Louisiana. He was preceded in death by his first wife, Dorothy Davies Miller, and is survived by their children, Jim Miller, Catharine Miller Koellen, Mary Alice Miller Rountree, two grandchildren and two great-grandchildren. He was also preceded in death by his second wife, Edmond Mazck Miller, and is survived by her three children.
Donations may be sent to the Caddo Council on Aging, Shreveport, Louisiana or a charity of ones choice.

Contributors: Richard Arnold, Len Auerbach, Richard Hay, Pat MacKay, Van Philips, Joel Rubin, Rick Stevens, and Bernie Works
To Top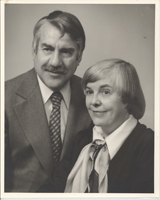 James Hull Miller and his first wife, Dorothy Davies Miller in an undated photo.

Photo/Courtesy Mary Alice Miller Rountree