USITT-Ohio Valley held its Fall Conference October 13 at the renovated Boyd Cultural Arts Center on the Wilmington College Campus. The 65 attendees chose from workshops covering nine different design and technology spectrums.
Stirling Sheldon demonstrated how to build Blinky LEDs. Richard Wolpert, president of Union Connector Co., Inc., taught a workshop on Electricity 101. Kathie Brookfield, Gina Neuerer, Tamara L Honesty, and Jim Hill conducted a sequence of three workshops on Resume/Letter Writing, Interview, Portfolio Pages, and Electronic Portfolio.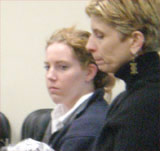 Kelly Yurko presented Wig Design and Fitting, right. Regina Truhart presented Time Management and Communication Tools for Student Designers and Technicians, and Raymond Kent gave a detailed overview of Planning for Video/Projection Systems.
At the closing ceremony, Matthew Benjamin, chair of the Ezekiel Awards Committee, announced the awards for the annual design and technology exhibit. Section Chair Jim Hill presented the Peggy Ezekiel Career Service Award to Katie Robbins of Otterbein College and Steve Wexler of the University of Cincinnati College, Conservatory of Music.
Other Ezekiel award recipients can be viewed on the Section web site.
The Section thanks Becky Haines, Wynn Alexander, Lois Hock and their students at Wilmington for their help in setting up this conference.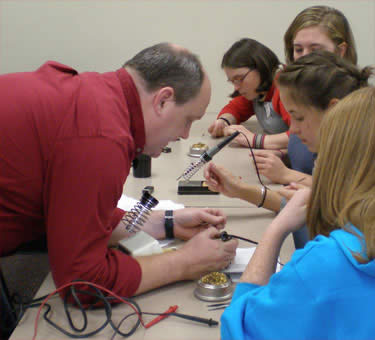 Stirling Sheldon demonstrated how to build Blinky LEDs for the Ohio Valley Fall Conference.
Photos/Courtesy Tammy Honesty, Ohio Valley Board Member
To Top