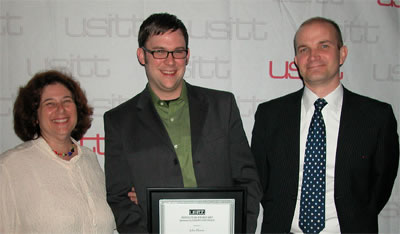 Ellen Lampert-Greaux of Live Design, left, and Publisher David Johnson, right, congratulate John Horan, winner of the 2007 USITT Rising Star Award sponsored by LDI2007/Live Design at the 2007 Annual Conference & Stage Expo.
Photo/Casey Kearns
Nominations Now Open for
2008 Rising Star Award
After last year's successful migration of the Young Designers & Technicians awards to an online application process, USITT is moving the 2008 Rising Star Award nomination, application, and adjudication procedures online. The process is easy to start by following the link here.
Nominations of outstanding young professionals for USITT's 2008 Rising Star Award, sponsored by LDI2007/Live Design, are now being accepted. Visit the Rising Star page on the USITT web site for information and an online application.
The Rising Star Award recognizes young professionals in the first four years of their careers for artistic excellence in the areas of lighting, sound, scenic, and projection design or a convergence of design disciplines.
Current USITT members are invited to nominate deserving young professionals. Once the application is received, nominees will be contacted by USITT for support materials used in the jury process. Nominees will be asked to electronically supply a professional resume, two letters of support, an application, and no more than eight representative samples of their work. A jury of professional theatre designers and technicians, and the editors of Live Design magazine will review submissions. Nominations will be accepted until October 18.
The Rising Star Award was created and is sponsored by LDI 2007/Live Design magazine. In addition to a $1,000 award, the winner will receive a one-year membership to USITT, and be a guest at the USITT Annual Conference & Stage Expo in Houston, Texas, March 19 to 22, where the award will be presented at the Awards Banquet which concludes the Conference.
To Top

Live Design hosted a cocktail reception to honor Rising Star John Horan, below. At the reception, he met Gil Densham of CAST Lighting who has now provided Mr. Horan with a copy of CAST's WYSIWYG software.

Photo/Courtesy Live Design