Commissioners at
Work and Play
The weather was hot and the barbecue tasty when 20 Commissioners and Vice-Commissioners met on retreat in Houston, Texas the first weekend of August. Enthusiasm prevailed as the Commissioners put their energies toward the future of the USITT Commissions and discussed issues ranging from the programming of USITT's 50th birthday in 2010 to strategies to develop and encourage leadership within Commissions.
The morning session focused on many of the topics that fill the expansive responsibilities for each Commissioner. Details to finalize Houston programs and PDWs were presented by VP Programming Carl Lefko and Michael Mehler; Treasurer Travis DeCastro commended the Commissioners on their wise use of budgeted funds which resulted in a 47 percent increase for Commissions in this new fiscal year; Barbara Ellen Lucas invited all to submit articles for Sightlines. With the publication being USITT's primary information outlet, Commissioners are encouraged to bring projects and activities to hundreds of individuals who hit USITT's web site each day.
Commissioners previewed the upcoming months, tackling many non-Conference related tasks. Reports will be submitted for the fall Board of Directors meetings, fiscal year 2008-09 budgets will be developed, and adjudicators for the Young Designers & Technicians Awards will be selected.
As the afternoon heated up outdoors, so too did the energy inside. Bobbi Owen, VP Communications and Chair of the USITT@50 Steering Committee, brought forth big ideas for the 50th which got the group thinking even bigger. Programming for the 50th will be an unparalleled opportunity for USITT, and the Commissioners are essential in paving the way. By the time everyone arrives in Houston for the USITT Annual Conference & Stage Expo in March, Commissioners will be looking to members to help plan the party!
USITT continues to plan and shape the future of design and production, and relies heavily on the Commission's leadership in developing programming, projects, and new initiatives. Providing incentive to become a Commission leader, mentoring new Commissioners, and recognizing and rewarding these individuals is a recurring topic. They continue to generate a host of new ideas and possibilities. A common theme among all Commissions is that leadership development must be on-going, and future leaders must have access to information to assist in the process as each Commission "grows its own."
No trip to Houston would be complete without a road trip to Goode's Bar-B-Q with the requisite photo taken at the giant armadillo! The day-long efforts of the Commissioners culminated in a quest for Texas barbeque followed by a gathering for more informal interaction with the Conference Committee, USITT Staff, and Executive Committee.
I would like to extend my gratitude and appreciation to all in leadership roles within the Commissions for their dedication of time, enthusiasm, and expertise that gives evidence that each and every Commission is in very good hands. New Commissioners Dave Tosti-Lane and Karen Maness, and Vice- Commissioner Michelle Harvey participated in Houston for their first retreat.
We appreciate the Commission leadership -- continuing and new -- for the time they give to USITT. They have provided their dedication and leadership to bring great things forward, and are truly the member's representative voice in USITT.
USITT Commissioners and Vice-Commissioners held a day-long meeting in Houston, Texas at the beginning of August to review an extensive variety of topics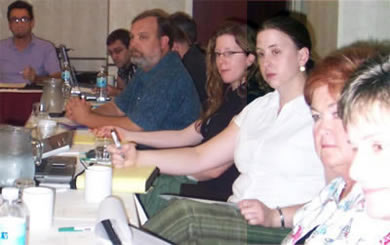 Photo/Barbara E.R. Lucas
To Top