Portrait Painting in Phoenix
Several outstanding scenic artists traveled to the Xavier Performing Arts Center in Phoenix, Arizona on a warm, sunny day to participate in a Professional Development Workshop sponsored by the Scene Design Commission. The fantastic end results were displayed in the Scene Design Commission's primary meeting room throughout the 2007 Annual Conference & Stage Expo.
The workshop offered participants a chance to challenge their artistic skills by painting large scale portraits of larger-than-life figures: Judy Garland and Humphrey Bogart.
Presenter Clare P. Rowe, associate professor at the University of Arizona, and assistant Eugenia Furneaux-Arends, third year graduate student from UA, took participants through the steps of creating a realistic sepia tone portrait suitable for stage productions. Each participant received a color handbook of supporting illustrations for future reference as well as a selection of scenic fitches.
The Scene Design Commission offers its thanks to Limelight Productions, Inc for generously supporting this workshop. Limelight donated the brushes used by each participant and paint for the portraits. Organizers noted "We could not have had this fantastic day without them."
Next year in Houston, the Scene Design Commission is proposing up to three incredible Professional Development Workshops, which would provide a broad range of topics to provide "something for everyone."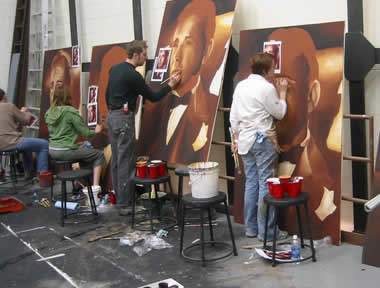 To Top