Working and Shopping in New York Focus of 2005 Costume Symposium
This summer's Costume Symposium, "Working and Shopping in New York," is a crash course in exploring New York shopping and research sources providing insights into the realities of working on Broadway and Off-Broadway.
From Wednesday, August 10 through Friday, August 12 participants will get an insider's look into the process of mounting New York productions from research, to design, to finished costumes. Panels and tours of Manhattan will focus on:
How the designer, design assistant, and shop head mount new productions and how they re-mount touring productions.
The construction and craft standards employed by New York costume shops and prop houses.
The research and shopping resources available in the city from the Upper West Side to lower Manhattan.
Four-time Tony Award winner William Ivey Long will kick off the conference by comparing Broadway and Off-Broadway production planning. Panels with Broadway shop heads and design assistants will focus on work strategies for re-mounting productions, bidding based on design sketches, exploring shopping and research, propping and crafting, and training in New York. Craft workshops include demonstrations of millinery techniques and fabric modification using silicone appliqué.
Backstage options include tours of the Metropolitan Museum's Costume Institute, a backstage look at the Lion King, the Metropolitan Opera, and the Fashion Institute of Technology's Costume collection. Shop tours include costume rental houses, costume shops, costume craft shops, and a wig studio. Shopping tours include bookstores and the Midtown fabric and trim districts; the East Village/lower Broadway retro, craft and garment districts; and the world famous Fifth Avenue/57th Street fashion shopping district.
The symposium will be based at New York University's Tisch School of the Arts, and all tours will be accompanied by experienced guides. Participants will explore the city like a native New Yorker and should prepare for a lot of walking and subway rides. The USITT web site provides a link to a NY Costume Symposium web page that lists the conference schedule and travel accommodation information. All tours require advance registration at the time that participants register for the conference. Space is limited to 60 people for each tour. USITT member registration cost, if postmarked by June 1, is $350.
Housing and transportation is not included in the cost of the seminar.
To Top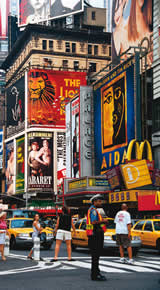 Those who participate in the upcoming Working and Shopping in New York Costume Symposium will have the opportunity to sample a wide variety of the city's many facets.