Thoughts From David Grindle
USITT's Executive Director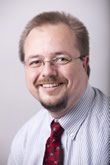 Well, that was fun…
The Conference was an incredible week of learning, networking, and energy. Record numbers of attendees and exhibitors filled the America's Center in St. Louis and people were filling every hands on opportunity we had.
When we visit a city, we leave an impact. The Conference leaves a very tangible economic impact of about $7 million in the week, which can be attested to by the fact that Sugarfire BBQ ran out of ribs and pulled pork and the Marriott bar set a new record for one day sales. But we leave a much deeper impact on the community than just money.
The Sewing Lab at Stage Expo made items for the Children's Hospital in St. Louis. A member walked in and said he couldn't sew, but wanted to make a Batman pillow for a child. People were signing their names on labels of their items, this member signed B. Wayne, so some kid got a pillow from Batman himself. I wish I knew who that member was, because that member epitomizes who we are as an association. He created a bit of magic for a young person, not through theatre per se, but still through imagination.
Over 50 high school students from economically challenged high schools visited the Conference on Saturday and interacted with our Gateway Participants. These students saw that there were options for people with their life stories in our industry. No one said it would be easy, but it did offer a chance for people to see what was possible. That's another part of our Institute, helping encourage one another and showing the way.
Outside of St. Louis, the participants of the Roundabout Theatre's Workforce Development Program registered for the Conference and new friends and networks were made. These young professionals got a chance to see the breadth of our industry and the possibilities that it can bring. For them it helped open a future of employment potential that may never have crossed their minds.
These are but a few of the people that made an impact locally and beyond.
I loved the chance encounters. I met a young sound designer and engineer in the Bookstore and happened to standing next to Abe Jacob, a legend in the industry. I introduced the two and a conversation ensued that might have made an impact on both of them.
Conference week is a long week for many of us. The staff and volunteers that make the conference happen are going from early until late. It is like doing a show, just one that runs from 7 a.m. to 10 p.m. with no intermission. But it is moments like these that I described that make those long days' worth it. Those days are exciting to see old friends meet, new networks develop, and people learning from one another. They give us all the energy to try to do more and better next year.
I didn't mean for this to devolve in to a sappy memory moment, but those memories remind me of the purpose of what USITT is, what it was founded on, and what propels it in to the future. The commitment of the people to one another, regardless of age or experience, is at the heart of the Institute. USITT moves forward because of fresh ideas and perspectives.
Moving forward we have the Innovation Grants, INNOVA online learning, and new live education coming in the months to come. All of those come from the ideas of the membership. Keep those ideas flowing, because those are the heart of serving people. And those are what makes the long days of conference seem to go by so quickly.
Thanks for the honor of serving you.