News & Notices
Member Spotlight: Jill Maurer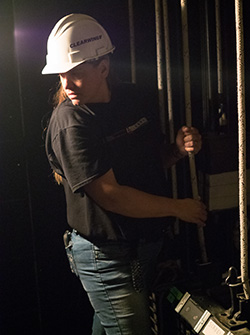 Q&A with Clearwing's Jill Maurer
How did you get interested in technical theatre? What came first, being a techie or being a theatre person?
I wish it was a more professional story but my interest in theatre started because I was trying to impress a boy in high school. But by senior year my best friend, Colleen, and I ran the place. The last musical had us directing, stage managing, tech directing, sewing costumes and running backstage. I never wanted to be in front of the curtain and frankly have a horrible poker face so I can't imagine pulling off acting.
What did you study in college and what were your goals?
I attended the University of Delaware and earned a BA in Technical Theatre and English with a minor in History. I started out thinking I was going to teach English but after the first education class, I knew it wasn't for me. I think the only goal I had at the time was to work in every theatre in every aspect that I could which was a great experience and a huge benefit.
You have worked in lighting, AV and rigging – do you have a favorite discipline?
My strengths lie with lighting and rigging even though I have a CTS from InfoComm. I enjoy the nuts and bolts of the systems. The white board in my office is usually covered with lighting network one line diagrams or mounting details for specific equipment attaching to odd structures.
Please describe your job and what you like about it:
Well, my title is Systems Design Engineer which means that I visit facilities, talk to their staff and volunteers, determine what they need and then figure out how to deliver that solution in their timeframe and budget. I enjoy learning about my clients and how we can help them reach their goals. Of course, that means knowing all the parts and pieces needed to create that solution including how to educate the client, draft the systems, inform the installers, run a jobsite and so much more.
How did you get involved in USITT?
I was introduced to USITT during my last year at Delaware. I had not heard of the Institute until Eileen Smitheimer told me I was going to Pittsburgh with the graduate students. I don't even remember having an option of attending, and if you know Eileen from the Sound Commission, you know what I mean. It was that conference in 1997 that truly opened my eyes to the varied and vast industry we call theatrical production. It was there that I learned about extensive options open to people who understand theatre, production, and event management.
How did you come to pursue ETCP Certification?
ETCP Certification became important to me while working as a consultant at Westlake Reed Leskosky. We decided, as consultants, that we should require in our specifications that the lead rigging installers be certified. Well, it seemed hypocritical to me to make that requirement without being certified myself so I took and passed the exam.
You have helped train high school theatre students via the Rigging Safety Initiative. What are the biggest concerns with safety at this level?
First, I must say that I love to visit high schools and talk to them about our industry. Having never had exposure to outside professionals while I was in high school compels me to educate possible technicians about how they could work and live in our industry. I am concerned about the high school teacher who doesn't know about technical elements. Too often teachers were educated in acting and directing and are winging the technical design and production elements, including the rigging.
Please tell us why you and Clearwing support this program?
Clearwing prides itself on being a resource for our industry. We offer free training series events, vendor showcases, and public equipment demonstrations. The Rigging Safety Initiative is a natural extension of Clearwing's education focus.
As a woman in the technical field, have you ever felt your gender was a disadvantage?
Gender is only a disadvantage if you allow it to be. When I encounter people who don't take me seriously due to my gender, or my age earlier in my career, I simply prove them wrong. It isn't difficult to be the most prepared in a meeting or the most knowledgeable on a jobsite; it just takes hard work and research. Stand up straight, throw your shoulders back and show them that you belong in that meeting, position, construction hard hat, speaking opportunity, etc.
What advice would you give young people considering careers in theatre technology?
Work hard and I mean 60-70 hours a week hard. Read all sorts of articles and books. Always listen more than you speak and maintain a great attitude. Be on time, be prepared with tools, and ask questions when you don't know or understand something. And of course, get involved in your local USITT section.
Suggest a USITT Member for the Spotlight!
If you know of USITT members whose work should be in the Spotlight, please feel free to suggest them. Contact Lynne Dundas at lynne@usitt.org.