News & Notices
Arbor Day is #RigSafe Day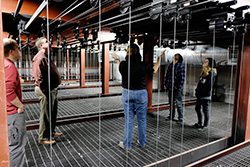 Arbor Day is April 28. This is the fifth year that USITT has celebrated Arbor Day as a day of Rigging Safety Awareness.
Rigging Safety is something that we must be concerned with every day. Whether you are an ETCP certified rigger or walking on a stage for the first time, the safety of the world around you, and in particular rigging, is something that we must all think of. Stage Rigging often goes unseen and the adage "out of sight out of mind" becomes more and more true.
USITT's Rigging Safety Initiative (The RSI) has helped almost 200 secondary schools get inspections and training that has improved safety for thousands of students and staff. The RSI grants have kick started annual safety inspections in some schools that had not thought about that aspect of safety and are now aware. It has improved the knowledge of the staff that manage the auditoriums, theatres, and performance spaces when those staff may have never had any training in the past. In short the RSI Grant program is one way USITT is helping establish a culture of safety for our secondary schools.
The Rigging Safety Initiative is supported by generous donors to the Rigging Safety Fund. One hundred percent of each donation goes to support the inspections offered to our grant recipients. If you want to support Arbor Day with a one-time gift to the RSI, please do. If you want to make a small, recurring donation each month that adds up over the year, that is also appreciated. Each $1,250 raised supports an inspection and training at a school. The bigger the fund, the more schools we can support. We appreciate all our Rigging Safety donors and hope you will take a moment to become one. To donate, click here.
Arbor Day is a day for all of us to celebrate safety and training for everyone in the industry. From the school or community theatre to the touring shows and spectacles, rigging safety is taken seriously by everyone in our industry. Use Arbor Day to thank a rigger, to celebrate safe practices, or to promote a renewed commitment to safety.
#RigSafe every day, but join in with USITT and our partners around the world to help celebrate Arbor Day on social media and online. Help us celebrate and promote safety in our industry every day, but especially on Friday, April 28. Let the world know you #RigSafe.