News & Notices
eSET Resources – Conference Sessions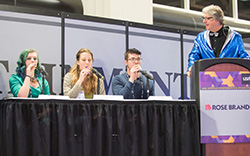 Are you thinking of taking one or more of the eSET (Essential Skills for Entertainment Technicians) tests? Do you feel like you need to build your skills before you attempt the tests? Are you just wondering what eSET is all about?
Attending sessions at the Annual Conference is a great way to learn more about specific subject areas or to find out more about the eSET program. To help you plan your Conference, here are some suggestions:
For those interested in learning more about eSET or building knowledge for the Basic Terms and Safety Test, look for specific sessions which can aid you in your preparation. Professional Development Workshops can also be helpful! The following sessions and eSET Quiz Shows can better prepare you for your upcoming exam.
eSET Quiz Show # 1 – Thursday @ 12 pm, Innovation Stage
eSET Quiz Show # 2 – Thursday @ 4 pm, Innovation Stage
eSET Quiz Show # 3 – Friday @ 11:30 am, Innovation Stage
eSET Quiz Show Finals – Saturday @ 10:15 am, Innovation Stage
What Will eSET Mean to You – Saturday @ 12:45 pm, Innovation Stage
For those interested in Rigging, this session may help shore up your knowledge:
Roles in Performer Flying Systems: Managers, Technicians and Performers – Thursday @ 2:45 pm, Rm 230
Those intending to take the Lighting and Electrics test may find this session illuminating:
Electrifying Costumes and Props: Safe DC Circuit Design – Friday @ 2:45, Rm 131
For those looking to build skills for the Costuming or Wardrobe Technician tests, this session may be a good fit:
Destination Hardware: Solving Costume Problems at the Hardware Store – Wednesday @ 11:30 am, Rm 124