Conference & Stage Expo
Last Word: Conference Countdown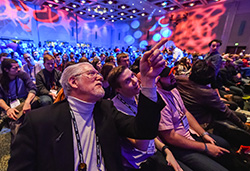 With only eight more days until the Conference & Stage Expo, here are a few last reminders before you pack your bags for St. Louis.
Travel on the cheap
USITT and GO BEST Express have partnered together to provide a discounted shuttle service to and from the airport and all of our hotels. Save $8 when you use GO BEST Express. This rate is only available if you reserve your spot online before March 2. After March 2, you will be subject to the standard rate of $25, so don't wait! Between the reliable and friendly chauffeurs, the clean vans, and awesome rates, there's no better way to go. The only way to access this discount is through USITT's Travel and Housing page, click here.
Public transportation from the airport to the convention center area is also available on the Metrolink. The cost is $2.50 each way. For more information, click here.
Get the app
Download the USITT 365 mobile app before you get to St. Louis to have the Conference & Stage Expo at your fingertips. Once you're in the app, click on the conference icon for access to all the guides and planning tools for USITT St. Louis, including Buzz for daily updates. The app lets you explore a map of the expo floor, search for exhibitors, provides a planning feature to map out each day according to what you'd like to participate in, and see a session list breakdown by date. A GPS feature within the app will come in handy as you navigate the America's Center hopping from session to session.
Don't forget to Hashtag
Share your USITT 2017 image that captures your conference experience for a chance to win a $25 Amazon gift card. Enter to win by tagging #myUSITT2017 and following @usitt. Contest opens March 8 in St. Louis.