News & Notices
Portfolio Review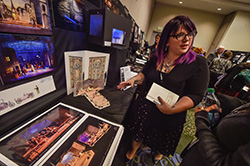 Have your portfolio reviewed! There are still open slots at this year's conference in St. Louis in Arts Management, Production Management and Curriculum Review for Educators.
Not sure if you should present your portfolio? The answer is, 'Yes!'  If you have been working on yours or are just starting out, this is a great opportunity for feedback for students and early career folks.  
What should I include in my portfolio?
Should I have drafting?
How should I present myself?
What if I'm weak in one area and strong in another?
What should I say?
Whether you have a digital portfolio, hardcopy drawings and renderings, or both, bring your work, your laptop, and get reviewed. 
Faculty and Pros – Please share your knowledge and experience by reviewing.  This is a great way to see what other theatres are producing/teaching, as well as getting involved with USITT. 
If you have any questions, feel free to contact Ann Cadaret at anngator@aol.com.